Between the wars
The next phase of Hazelwood Road's history occurs after World War One. It produced a road largely built up, but with two tennis/bowling clubs and two nurseries, in other words a very pleasant combination of social green space and new middle-class housing. It appears likely that the agricultural land belonging to Fox Green Farm between Fox Hollies Road and number 27 was sold for building after 1918, while the farm became a dairy business, getting its milk in from elsewhere. The land for the Methodist Tennis and Bowling Club was bought in 1919, and was opened in 1920 as a private Recreation Club. Financial difficulties led to purchase by the Trust, the governing body of Acocks Green Methodist church. There was a great increase in membership in the 1930s.
After the War the courts and green were refurbished, and the club was popular again in the 1950s. However use had declined by 1964, and the whole site was sold in 1968 for housing. The other tennis club was on the south side of the road, as we have seen. The second nursery adjoining it had its entrance at 90 Shirley Road, and was owned by Arthur Jones from about 1944, and by A. Laurence Jones in the 1950s. The last directory entry was in 1963.
Leonard Skan ran a small dairy from the garage of number 101, with the horse stabled in the back garden. The garage/bottling shed contained a table and a boiler for sterilising bottles. Churns came from Chalmers in Henley - in - Arden or from Birmingham Dairies. Mr Skan had worked for Miss Hastings of Fox Green Farm beforehand. When he bought the dairy business from her he started to rent the house. This was in 1937. The Skans could not have slabs in front of the garage but had to have a soil path instead, in case the sound of the horse's hooves disturbed the neighbours! Leonard Skan put a sign up advertising his business facing Fox Hollies Road, but a number of residents of Hazelwood Road complained, and he had to take the sign down. To start with Mr Skan's milk round included large houses with servants on the roads off Yardley Road.
However around 1944 the rounds were compulsorily zoned, and he got Tyseley, where 'they only wanted stera'. So he gave up the dairy business and went to work at Rover as a commissionaire. Leonard Skan worked hard to raise money for St Mary's halls on Summer Road, and also worked at the Conservative and Unionist Club on Station Road on Saturday night. When he died, Painters did him up with a dicky bow, because that was how they remembered him.
Margaret Bryan (née Dalgetty), formerly of number 83 recalls:
Before the War, when I attended Acocks Green Primary School, Mr Skan would sometimes give myself and two friends lifts home from school in his milk cart if he met us walking along Westley Road! this was a great treat.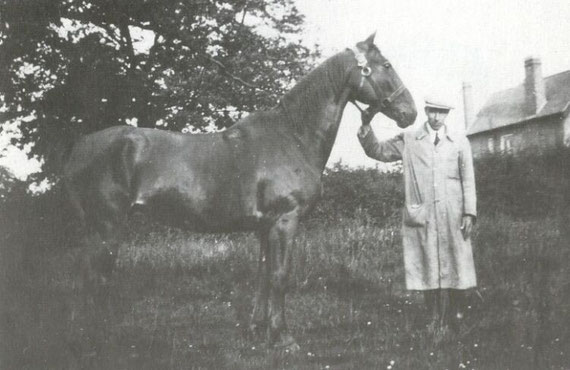 The housing that was built after World War One consisted not only of pairs of semis, but also a good number of detached houses. The semis numbers 29 - 31 were there by 1931, 37 - 43 by 1924 and 49 - 59 by 1925. Numbers 49 - 51 were set back from the road because of several large trees. Number 33 was there by 1933, number 47 was occupied by 1925, and number 61 by 1924.
Number 63 was built by 1923, and briefly had the name Tennessee. Number 73 was built by 1924, semis numbers 77 - 79 and detached numbers 81 - 89 by 1925 (with the exception of number 85, which according to Margaret Bryan was built around 1937/8) and number 93 by 1926. Numbers 95 - 97 were built by 1926. Numbers 99 - 101 (semis) were built by 1925. Both these pairs were built by Philip Perks, who was Miss Hastings' brother - in - law. Number 99 was originally called Penrith, and number 101 Marston. Number 101 was built with stables, as said before, but without a loft opening. According to Arthur Huckfield, the first owner did not want the neighbours to be able to come down into her house! Number 64 was listed by 1934, number 74 by 1927, and number 104 by 1928. Number 74 was built by the builder Philip Harris Perks for himself. He also built the semis numbers 76 - 102 on former Clifton House land. Numbers 76 - 80 were occupied by 1926. Their gardens are shorter than the others. Muriel Thompson told us that the local legend is that Mr Perks could visit his daughter directly from his garden as she lived in one of the semis he built in the same style on Olton Boulevard East. However, according to Kath Huckfield his daughter lived in the detached house next to Clifton House.......so perhaps Mr Perks just wanted a big garden! Numbers 88 - 90 were also occupied by 1926, numbers 82 - 86 and 92 - 94 by 1927, and numbers 96 - 102 by 1928.
The City widened Hazelwood Road in 1932, and bought a strip of land in front of numbers 44 - 58 in 1931 as part of this work. This straightened the bend in the road somewhat.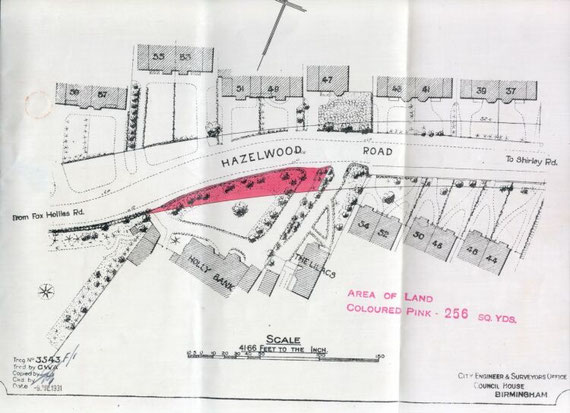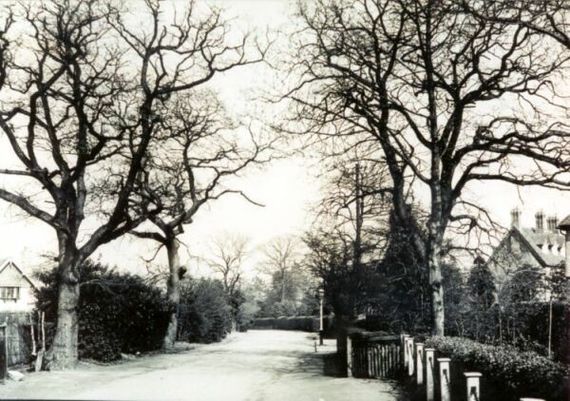 Hazelwood Road before straightening, April 1931. Number 63 is on the left. The chimneys of number 58 can be seen on the right. Photo courtesy Birmingham Libraries.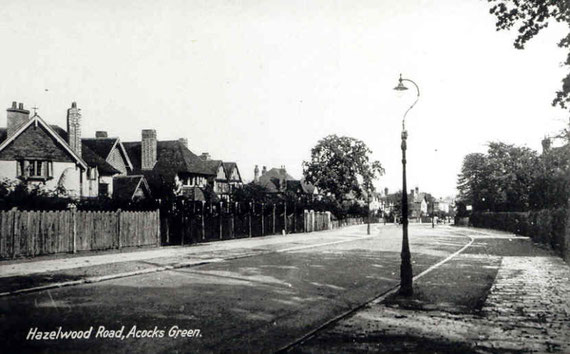 A 1930s view after straightening, with number 63 on the left again.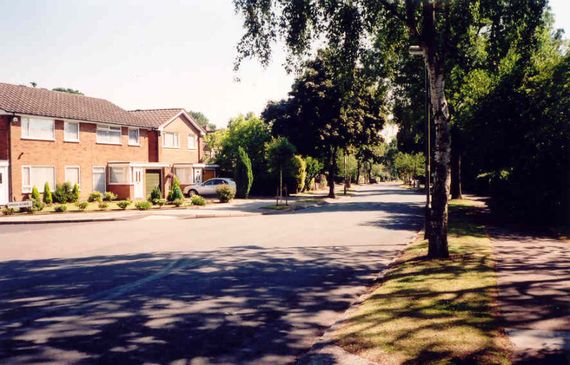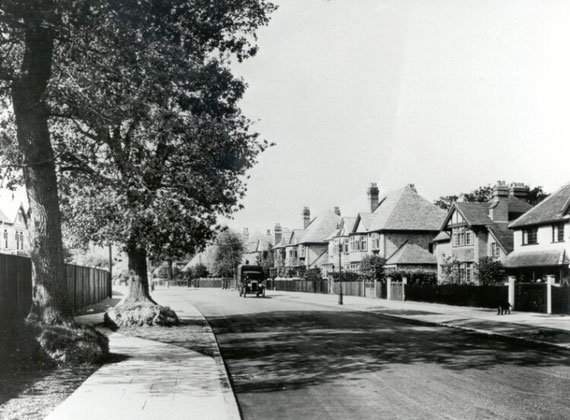 Another view after straightening, this time looking towards Fox Hollies Road, September 1932. Photo courtesy Birmingham Libraries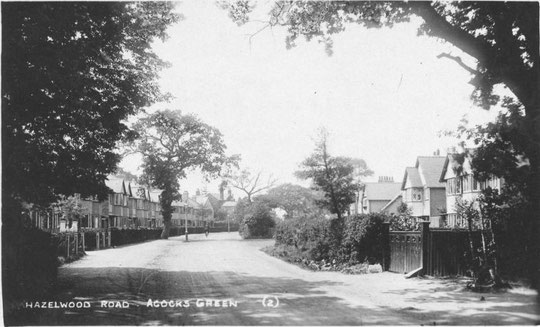 Another 1930s view looking towards Fox Hollies Road. Clifton House is in the distance. The houses on the right will be ruined by bomb damage during the war.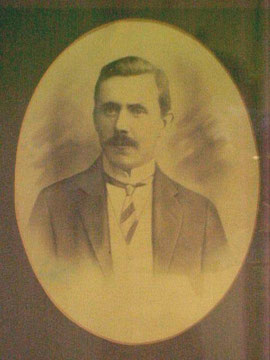 Mr Brown, who built number 47, we believe (Photo courtesy of Mr Frisby)