The Bradleys and number 63
Number 63 was built by Horace Bradley in 1922 for himself and his family. He also designed number 61 a year later for Mr A.G. Garfield. Horace George Hayden Bradley was born in Wolverhampton in 1877, and lived as a child in Smethwick. On his marriage in 1914 he moved to 22 Hazelwood Road. In 1917 he designed a very impressive house on the corner of Paradise Lane and Highfield Road, Hall Green for Edwin Fardon, the vinegar manufacturer. He also did work around the altar in Tanworth-in-Arden church. He is probably best remembered, however, as the architect of several Birmingham cinemas. An article in The Cinema on April 24 1924 stated:
"Among the list of architects who who have contributed materially to the progress of British cinematography by building beautiful and attractive cinemas must be included Mr. Horace G. Bradley, of 10A Temple Row, Birmingham. Mr. Bradley has to his credit - among other fine structures - the Broadway Cinema and the Coronet, two of the landmarks of the industry in Birmingham".
During his career he was responsible for:
The Highgate Picture House, Darwin Street, Highgate, which opened 3 October 1913.
The Waldorf, which opened 29 November 1913.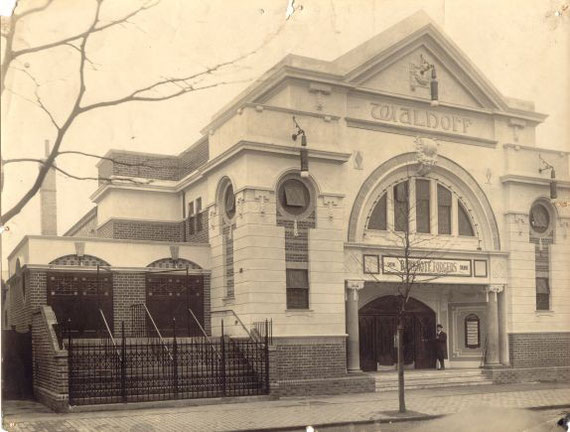 The name comes from a transposition of the letters of Walford Road, in Sparkbrook, where it stands. It is unrecognisable now, because it was so badly damaged by a bomb in World war Two that another architect had to rebuild it. It re-opened to Harry Weedon's design, with a typical 1950s boxy frontage, on Easter Monday 1950. It closed in the 1960s and became an Asian cinema, finally ceasing to show films in 1983. It is now a Hindu temple.
The Springfield Picture House, Stratford Road, Springfield, which opened 25 April 1914.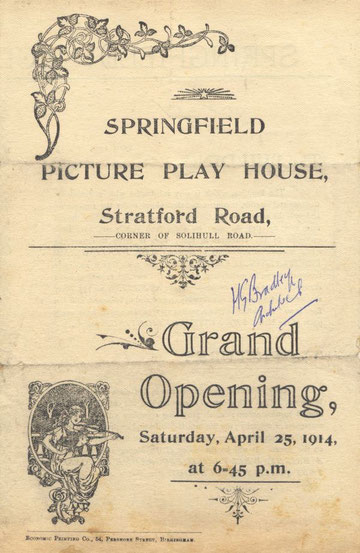 The Albion, 46 Holyhead Road, New Inns, Handsworth, which opened 1915/16.
The Coronet, Coventry Road, Small Heath, which opened 4 April 1922.
He refurbished the Lozells Picture House, 54 Lozells Road, which re-opened at Christmas 1922 (it had originally opened in 1911).
According to the article quoted above, Horace Bradley was involved with the Palace, Erdington High Street, which had been converted from a public hall to a cinema. It acquired a new auditorium, re-opening on 2 January 1923, and it is this that would be ascribed to him, rather than the original design, which books say was the work of George Payton. The Palace was where Violet Pretty, later the actress Anne Heywood, worked as an usherette.
He refurbished Pringle's Picture Palace, Gooch Street, Highgate, in 1923 (it had opened in 1910/11). This became Birmingham's first Asian cinema after closing in 1959.
He refurbished the Bristol Street Picture House in 1923 (it had opened in 1911), as the Broadway.
The Kingsway, High Street, Kings Heath, which opened 2 March 1925.
The Carlton, Taunton Road, Sparkbrook, which opened in May 1928. A bomb landed in the cinema on 25 October 1940, and killed nineteen people. It is said that most were found in their seats, with little obvious injury, but they had been killed by the blast. In order to be safer from falling debris, they had been asked to sit in the stalls below the circle.
The Warwick, Westley Road, Acocks Green, which opened 16 September 1929. The interior was meant to recall the grounds of Warwick castle. It closed in 1962, and reopened two years later as a bowling alley, with a smaller cinema as well. That closed and was replaced by a laser combat business.
With Stanley A. Griffiths he designed the first Odeon in the country at Birchfield Road, Perry Barr, which opened 4 August 1930.
The Windsor, Bearwood Road, Bearwood, Smethwick, which opened 29 September 1930
The Royalty, High Street, Harborne, which opened 20 October 1930.
He refurbished the Prince's Hall, High Street, Smethwick, which re-opened 26 December 1930 (it had originally opened in 1912).
The Olton, Warwick Road, Olton, together with a Mr. Clarke. It opened 2 October 1933.
Some more examples of his work are the Birchfield Harriers Sports Ground; the Oldbury Theatre at Oldbury; the Princes Theatre at Llandudno; the Regent Theatre, Hinckley; the Solihull Picture House; the Bath Cinema, Leamington Spa; the Grand in Tamworth; the Palace in Erdington; the Victoria in Birmingham; and the tower and porch of Matlock Methodist and United Reformed Church.
Number 63 was called Tennessee when first built. It faced diagonally onto Hazelwood Road, had a front garden big enough for croquet, and a very large back garden stretching alongside the Methodist Tennis and Bowling Club. Horace Bradley left Birmingham on retirement in 1935, and sold the house to Percy and Winifred Shipway. It suffered some bomb damage in August 1940. The last occupants were the Garratt family from around 1960. The house was sold and demolished as part of the Green Acres development around 1969.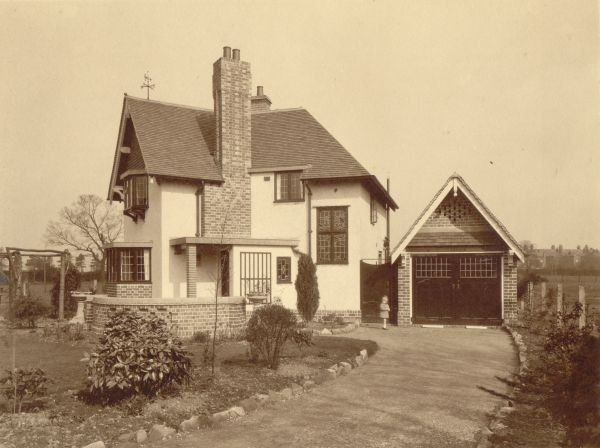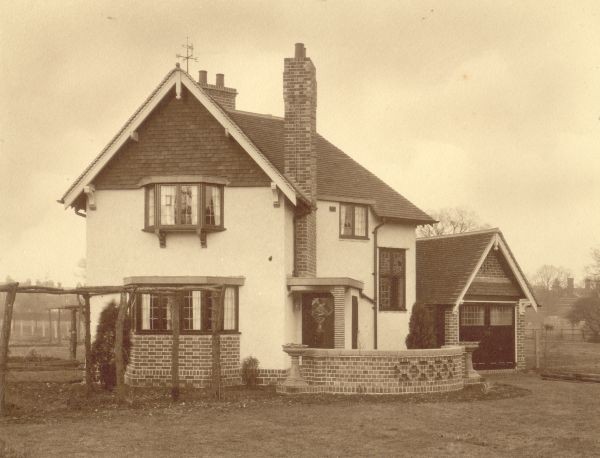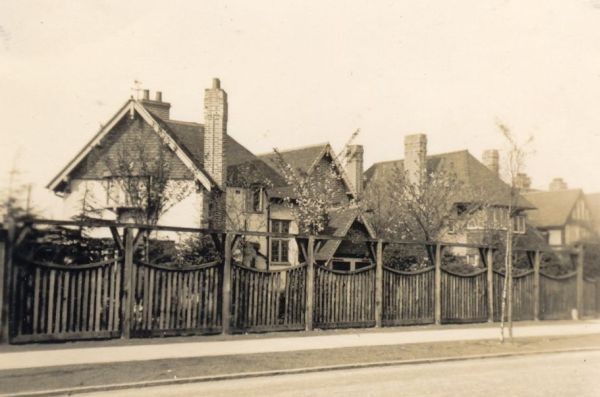 In 1932 the road was widened, and the Bradleys lost half of their front garden. In return they were able to choose the design of a new front fence, according to his daughter Eileen.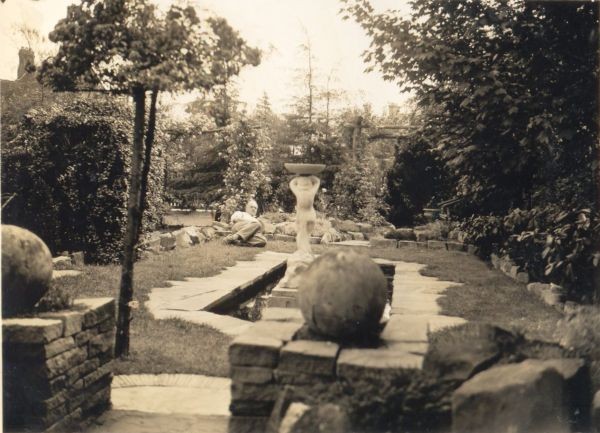 Horace Bradley enjoying  his garden