Extracts from F.T. Lockwood's diaries
Frank Lockwood's daughter, Jean Barnsby, Chair of the History Society, has kindly made her father's diaries available in edited form, with private family matters removed. They have been further edited for the purposes of this page. Entries in italics are summaries of the diary entries for that time rather than a transcript. The diary shows the impact of wartime life on a family, and how they coped with it all, but also, as time went on, how some normal life returned. F.T. Lockwood's sketches and watercolours are in the Birmingham Museum and Art Gallery, and include many views of Acocks Green and other nearby areas. Copies of them are on their website, together with information about him.
3rd September 1939
Listened to hear the declaration of war. Mr Chamberlain sounded a sad man, but he gave a reasoned and reasonable speech. A sad sort of day, continued making some panel shutters for the back windows, using one inch framing and roofing felt. Round us can be seen a considerable number of barrage balloons.
First month of the war
Weather has been delightful – warm and sunny. Making more shutters on behalf of the houses up our street, I made four strong seats to fit snugly into the Anderson shelters. Was at home the first week of the war (holiday from Cadbury's S.A. Studio). Barrage balloons are now in the skyscape, front and back. It is possible to count well over twenty from our windows. Before the holiday we had been extremely busy with work that was to go out four weeks, eight weeks, 12 weeks and up to nine months ahead. I occupied a responsible job with prospects – my work demanded years of knowledge and experience – we all thought our jobs were of some importance…in peace time yes, but war time the department practically ceased to exist.
Lighting restrictions make going out at night almost an adventure, for the A.R.P. wardens are very keen to notice the smallest ray of light coming from a window. The Tennis courts at the back of our house are used as an A.R.P. Post, and the pavilion is well sandbagged. (They belonged to Small Heath Baptist church and were called the Cedars, where Cedars Avenue is now).
Have had no trouble with our lights showing as yet, but some houses have had visits from the wardens. Dark curtain material is almost non-existent. Big shops and small shops have cleared right out and all sorts of 'stuff' is being sold for black out material.
Soldiers in greater number are stationed in Red Hill – Oaklands Park, and the lovely old trees that bordered one side of it are all cut down. The bus services are very much cut – no workman's tickets issued below 5d.
New burdens of taxation introduced, heavier income tax, petrol rationed. The quantity allowed is so small that it has the effect of almost stopping the ordinary motorist from using his car. Coal rationing forms have been issued. A National Register has been taken. Rationing schemes also on the boards – gas as well as electricity.
All schools are still closed, but picture houses and theatres which were closed during the early days of the war have, inmost cases, been re-opened. League football is suspended – grounds were closed, but the last two weeks have seen friendly matches, introduced with a limit of 8,000 on attendances, but I think that only on two grounds was the attendance reached. Football not permitted in Birmingham. The Football 'Pools' are suspended.
Taxes on beer, sugar, tobacco. Stories that we read about the cleanliness of some of the evacuated children, and their mothers, do not in many proved cases make pleasant reading. Newspapers down in size, as regards number of pages. Some aspects of ordinary commercial life seem to have just come to a standstill. Everything is A.R.P. A.R.P. paint. A.R.P, paper. A.R.P clothing, curtain, lampshades and even A.R.P. lollipops (apricot, raspberry and pineapple).
One or two walks along the canal from Acocks Green to Lincoln Road bridge. From the canalside can be seen many dug out shelters made in the hillside to protect workers of the Rover Aircraft factory. At Lincoln Road a barrage balloon is stationed. Last Sunday we found we were not allowed on the canal path. It has been stopped up.
A feature of the war has been the lack of air attacks on English and German soil, but R.A.F. aeroplanes in the first days of the war dropped leaflets and since then they have been over several times dropping millions of leaflets. Some of the leaflets have been picked up in Denmark.
Everyone carries a cardboard box containing their gas mask, but soon tin containers, fabric containers of various patterns are on sale.
17th September 1939
Jean started school today. We had to sign that she was going at our own risk as there are no air raid shelters provided yet. It is good to know that at last some provision has been made towards the continuance of the children's education – for they have been running wild for weeks.
21st September 1939
Competition football started today. Friendly matches have previously been played, but attendances were not large today, although better than when friendly matches were played. There is a limit of 8,000 in many areas regarding the size of the crowd. No football permitted at Aston Villa or Birmingham. West Bromwich can play.
26th October 1939
On Wednesday there was a meeting held at the school to decide what to do about the infants going to school. Most mothers were in favour of school, and those that were willing allowed their children to go all day. So Arthur started today. Only the Infants school is being used (The Senior school is a First Aid Post). And Arthur attends in the morning 9 to 12.30, Jean goes in the afternoon 1.30 to 5.
27th October 1939
Various rumours have been circulating about the old house, last used by the Midland Counties Dairy. Whatever its purpose, the R.A.F. Have taken it over today. (This stood on the site of the park at Wynford Road. ed.)
30th October 1939
Gas and electricity were going to be rationed. We have been saving all we can, using low power bulbs, burning as little as possible. Now we hear that they are not going to be rationed.
10th November 1939
When the buying of a 3rd torch battery fills one with joy, well it seems the limit. Tonight going into a local shop, and asking for such a battery in an almost half-ashamed way, I was greatly surprised when I was told I could have one – the last one of a dozen that he had. No fireworks this year.
There was a huge demand for torches during the first week or two of the war. I managed to get three and we have managed all right so far – with careful use.
13th November 1939
Coal is not to be rationed from now onwards. The new ruling permits us to have up to our usual quantities.
18th November 1939
"Summer Time" ended today. The Blackout evenings will be right on us now from leaving work.
27th November 1939
Local papers say that 1,000 evacuated children are returning to Birmingham each week. 
1940
10th May 1940
The barrage balloon nearest to the house went up.
18th May 1940
Went to Redhill Park, could see 60+ balloons from there.
6th June 1940
All sign and direction posts to be removed.
27th June 1940
Can see 50+ balloons from the bedroom window.
2nd July 1940
All signposts gone from lanes and streets, also all other notices carvings showing the name of the town or village, all railway station names obscured.
14th July 1940
Papers reported an earth tremor that was general all over the Midlands. A number of people got up and went into their air raid shelters.
8th August 1940
We had just nicely got into bed and been sleeping awhile, when I was wakened by what I thought was a bomb explosion. I woke Dorothy, we both dressed, and I went out into the garden for a look around. All seemed very still – one or two people about – some people a few doors below were in their shelters. Came in again and we got back into bed, but very soon the sirens were going so up we got again – waking the children this time and going down into the shelter – all clear went about half an hour (later).
9th August 1940
Reliable news in that bombs dropped near Bromford Tube Works – some houses were damaged in the Tyburn Road district. One person killed and five or six injured according to the official news.
10th August 1940
While we were having a peaceful night's sleep last night people near us were having a very trying time, for "Janet" our balloon ran wild during the early hours of the morning – broke branches from trees, swept chimney pots and chimneys from the roofs of houses from here to just beyond the Swan at Yardley. Five houses were damaged down Augusta Road, and nearly all the houses down Wynford Road suffered damage. Then the cable swept across and removed chimneys from houses opposite the cemetery, and then had its final fling at the Swan Hotel and some shops near it, and across the road where the chemists at the corner sustained a deal of damage.
12th August 1940
A new balloon has arrived, and with a crowded gallery of children watching, it went up for the first time. It is a smart new job – Janet was a shabby sort of second-hand looking article.
13th August 1940
We had our first real air raid tonight. We got up and went into the shelter around 11 o'clock. Machines came over in about seven waves. They all seemed to come from the same direction. There was heavy anti-aircraft fire. Many bombs were dropped. No sirens sounded until the raid had been going for some time, and then with guns bellowing out. The all-clear sounded, to be changed gradually to the warning signal. We could hear shrapnel dropping on roofs and in the garden. A house three doors above us (Wells) had a piece go right through the roof, but it stopped at the ceiling of the bedroom. The children were splendid. It was 3.15 a.m. when the final all clear went.
14th August 1940
Today's talk says that bombs were dropped at Yardley – on houses and the almshouses -  and on Nuffield aero factory – the Aston Chain and Hook Co. and again near Bromford and Erdington districts. Notice on police station shows five killed, fifty-two injured.
15th August 1940
We thought Tuesday's raid was pretty close to us, but we had a worse experience tonight. Dorothy had just got into bed and I was about to get in when we heard airplane engines – and while we were wondering a salvo of bombs none too far away. We were soon up and downstairs – I went and had a look around – we stayed up awhile. All was quiet, so back we went to bed. About quarter to one or so we were awakened by a terrific crash of bombs that fairly seemed to shake the house. We were soon up and out in the shelter with the children. No siren sounded until 1.45. Bombers seemed to arrive every quarter of an hour – same direction as the other night. About 2.30 there was a terrific fall of bombs, amongst them a "screaming bomb" which almost seemed on top of us and fairly made the shelter quiver. The all clear at 3.15.  Coming out of the shelter I noticed a deal of motor traffic on the Yardley Road – sounds of motor lorries that seemed to forbode that something had happened not so far away.
16th August 1940
Going to work this morning I was surprised to see Francis Road closed – policemen on guard – and the same applied to Florence Road and Cottesbrook Road. We understand that the damage in Cottesbrook is pretty severe – some houses destroyed and at least one death. (Editor's note: nos. 46 and 47 Cottesbrook Road destroyed, two killed, no. 46 would not go in their shelter. Many houses suffered blast damage: 38,40,42,44,43,45,49)
Like a lot more people we went to bed late tonight. In fact we slept on the bed with most of our clothes on until midnight, when we undressed. Planes were over the Midlands but there was no activity near here. Eleven people were killed in yesterday's raid – including two deaths down Cottesbrook. Don't know how many injured. There is considerable damage at Small Heath (Oldknow and St. Benedicts Road) and at Hay Mills and also at Stechford.
25th August 1940
We slept until quarter to eleven. Yesterday's raid was again on our side of the city. Bombs were dropped in Hazelwood Road and somewhere near Gospel Lane (Wildfell Road where four members of one family were killed and two injured). Police notice says five killed in raid. Many delayed action bombs exploded in our district during the day. Jean went to Sunday School and went into the shelters after one of the explosions. Tonight at ten to ten again hostile aircraft made their presence known by their peculiar zoom-zoom and until 5 o'clock we were rarely out of the noise of that hideous zoom-zoom. Many bombs were dropped. There was considerable gunfire.
26th August 1940
We understand that considerable damage was done by fire in Birmingham in last night's raid. The Market Hall was gutted by fire. It was the most intensive raid since the war started and civilian casualties were the highest yet. Many streets in the city were stopped for traffic – there was a time bomb (suspected) outside Lewis's, and a cinema was destroyed (Perry Barr Odeon). The Germans say that sixty machines, each with a ton of bombs, raided Coventry and Birmingham on Sunday night.
Prompt at ten to ten German aircraft again came over the city. Many heavy bombs were dropped – and some fairly close – and huge fires were started. From the shelter our houses were silhouetted against a glowing sky and at 5.50 a.m. When the all clear went the glare was as bright as ever. We took mattresses etc. into the shelter in readiness for a raid, and we were thus able to make the children comfortable, and they slept. Dorothy and I also improved our comfort. It was an awful night – there were some terrific explosions and anti-aircraft fire was very heavy at times.
27th August 1940
The Germans were late tonight. It was twenty past ten when they came, three o'clock when the first all clear went, to be followed by warnings and all clears until the final one at approx. 4.20.
12th September 1940
There was a big explosion which rattled the front windows at 8.30. We all got down to sleep in the house, and although we heard machines on two occasions we heard no bombs – but it must have been bombs that caused us to wake and hear the planes, for we learned that bombs had been dropped near to the allotments near to the old Fox Hollies Hall – two houses received direct hits and five other houses were rendered uninhabitable by six bombs – and an old lady of 86 died from shock after being buried in the wreckage. Several other people were also rescued from the same house. This house was off Shaftmoor Lane. Thus deep sleep kept our minds easy when danger was not far away.
13th September 1940
No warning. We slept partly undressed on top of bed until 4.30 then undressed and got into bed properly. One of the best nights for ages.
14th September 1940
Sold sketch of Ravenshaw Hall (Solihull). I took it over there tonight – Mrs Trentham was very pleased with it. Coming home on the bus we had just got past the Barley Mow at Solihull when the sirens sounded. This was at 8 o'clock.
30th September 1940
The balloon nearest to the house "popped" and fell towards the recreation ground, the cabled trailed over houses on Bramley, Douglas and Alexander Roads and the railway.
New balloon 2nd October 1940
15th October 1940
In the raid on Tuesday at least 49 people were killed. These were spread over a wider area, I believe some at Kings Heath.
16th October 1940
Tonight we are having a very heavy rainstorm – almost thunder rain, when the sirens wailed out and a plane was heard and bombs were dropped. Damage was done to New Street Station and to houses and business premises in Suffolk Street and Holloway Head. About thirty bombs were dropped.
17th October 1940
At 8 o'clock tonight the sirens shrieked out and before their wails had finished bombs were coming whistling down and guns were firing. Some of these bombs were pretty near here, and once the shelter fairly quivered. The bombs were falling as we were going up the garden on our way to the shelter. The barrage was very noisy tonight, and long after the guns had gone quiet 'shrapnel' came down rattling on the roofs and thudding in the gardens. The all clear went about 11.30, but we stayed in the shelter until 2.30 – we slept on the new bunks. We finished the night in the house. Damage was done at Flint Green Road, Greswolde Park Road and to the Church Schools. This was our worst night for many weeks. Small Heath and Bordesley Green suffered.
18th October 1940
'He' came again at a quarter to 8 tonight. A good number of bombs were dropped but we don't know where, except that some fell in town, and we think Small Heath again, but generally the raid was not so severe as last night.
19th October 1940
I went down to a Watercolour Society meeting this afternoon. I saw the Small Heath damage that was done last night – and as the trolleybus service was restricted owing to suspected time bombs I came home by the 44 Acocks Green bus…I sketched the old cottage on Flint Green Road, damaged by a bomb that fell in the small field that separates the house from the main road.
25th October 1940
7.45 again on Birmingham city centre, but as happened last night a number of bombs fell in suburbs. We had some in Acocks Green. Big fires in Birmingham.
26th October 1940
It is stated that in last night's raid a cinema had a direct hit while the show was in progress. People killed and injured (Carlton Cinema). Many fires in Birmingham. The two houses at an angle facing the old village centre at the end of Dudley Park Road were very badly damaged by a direct hit. Dorothy and I had often admired the charm of these two houses, with their carefully tended gardens and neatly cut dwarf hedges. Oxford Road had a bomb and quite thirty houses had windows broken.
He came early tonight, 5 past 7, and big fires were started immediately. From 7 to 11 guns and bombs and noises of planes were about continuous. The glare from fires in town was terrific. We came into the house from the shelter at 1 a.m., but the all clear had not gone then.
16th November 1940
I went into town straight from work to do a bit of shopping. Saw the effects of many fires and bombs. Terrible ruin in some streets. Usual nightly alert. Deaths at Lily Road number 10, with 4 or 5 injured in addition.
17th November 1940
Alert in afternoon, but no gunfire. (At night) raid as usual but not very close to us. Some idea of the amount of shrapnel (shell splinters) that fell after the barrage can be gathered from the fact that two children living near us collected over 100 pieces between them the morning after.
18th November 1940
A raid tonight that lasted 11.00 till 4.00 a.m. Heavy gunfire.
19th November 1940
We were subjected to a terrific raid. It lasted from 5 mins to 7 until 5 a.m. – About 9½ hours of machines coming and going. For the first 5 hours the drone of enemy machines was never absent. The raid started with a shower of incendiaries. We opened the back door – they were burning fiercely – then we opened the front door and saw a line of them up Bramley Road and in the road near us. We dressed the children, got them into Mr Bartlam's shelter, and I joined Mr Roberts, who with others had got them out, including one that was burning in a roof just up the road. I stayed out watching with Mr Roberts for the rest of the night. In the clear moonlight we actually saw a "parachute land mine" floating down. What an explosion. Several of these fell – we heard the crash of glass quite near at hand. Several balloons in difficulties. We watched one of these, and saw it descend – struggling to regain height, and then one of the big H.E. bombs went off and it was sent soaring upwards wreathed in a fiery glow as if on fire – and then it came down for good. The all clear went at 6.30. Terrific fires towards town. Dorothy and I slept part of the night on the floor in Mr Roberts. Plenty of damage down Stockfield Road and in the village. We had no water and no gas when the raid was over. (Note: water restored 7th December, ed.)
20th November 1940
The raid started at 20 to 8 tonight. The incendiaries fell in exactly the same places as last night – the first plane over dropped them – and they were all burning when the sirens went. Many more came down in roads and streets round about us. Mr Bartlam, Mr Roberts and I, and lots of other men were quickly on the job and soon we had all of them out. There was one in the hedge at the bottom of Miss Burton's garden, several in Mr Beckett's hen run and in the hard tennis courts, while there was one on the grass in front of Mr Bartlam's. Several more in the road, some up Bramley, one between the bay windows of Jenks and Wells. The heat broke the glass and blistered the paint before we got it out. One exploded and spattered a woman – we heard her cries. Mr Roberts had a lucky escape from another. Soon the bombs were coming down – big fires town direction. We got down to sleep as best we could in Mr Bartlam's shelter about 5.00 a.m. The all clear went about 6.30. Not quite such a bad raid as Tuesday (19th), which was hell.
21st November 1940
Terrific rain for hours – we had a raid, though. It was not of long duration. Bombs were dropped and there was gunfire. All clear at 11.30. Dorothy and I slept in the house after the all clear. Mr Roberts kept a watch. Slept well too.
22nd November 1940
Tonight the warning was at 7.15 p.m., the all clear at 5.30 a.m. The incendiaries which fell at the commencement were further towards town tonight, and soon we saw terrific glows from what seemed to be the Tyseley direction. The fires grew and we could see smoke lit up in a red glow. Planes were continuously coming over in all directions – bombs were raining down. We heard 3 fall close to us and only 1 explode – the shelter shivered and small stones or something fell over it. Mr B. and Mr R. went out and reported that there was a crater or disturbance just outside Mr Wells' house. No windows seemed to be broken, so we all took steps to get clothes and other packed cases from our houses into the back garden, putting them into the shed. Mrs Bull decided to stay on – we did not get to know this until later because we told her to move with Miss Burton. Mr Bartlam and I then went and had another look at the crater. I did not go with them before. This time we spent longer looking at it – gas was escaping and we saw that the concrete slabs were broken and thrown yards – a bay window frame seemed to be shattered and tiles on Wells' roof seemed to be out of position. We went back more re-assured that it had gone off, but where was the other or others? The bombs rained down all night – would it never come morning – the shelter simply rocked at times. The weariness of sleep came on us all at last – about 5 we think – we never heard the all clear.
23rd November 1940
It is a free Saturday. We were up at 6.30 and out in the front. There was a crater at the top of the gulley in the road, and down our road near the Nursing Home. Soon a few men started to come past the front of our house – then a few motors, cyclists, lorries, and soon a few buses. No traffic seemed to be running on Stockfield Road. We had no water and no gas. We paid several visits to Wilmot Breedon works where in the roadway they were pumping water, and crowds of people with an assortment of receptacles were eagerly filling them and departing – dustbins, kettles, jugs and cans of all shapes and sizes. It was an oil bomb that dropped on the pavement at the top of the gulley – many windows broken – the pillars in the road are black and so are the hedges – and the house fronts are splashed. The bomb near the Nursing Home smashed the lamp at the corner of the street. Two houses are demolished on Alexander road. We understand Tyseley and Small Heath are very bad. No raid tonight.
24th November 1940
No raid.
25th November 1940
Meeting has been called for tomorrow about the evacuation of the schools. No raid. Gas better.
26th November 1940
Dorothy went to the meeting at the school. It will be closed and plans are in hand for taking all the children away. We thought it over and decided that we would send them to Yorkshire. Alert but no raid.
27th November 1940
The kindness of the Becketts was again in evidence when Miss Joan took us all down to the station. The children were full up. We have had some happy departures from this station ….but this was a sad one. On the wireless this morning it was stated "that it may now be stated that amongst places recently bombed were Bristol, Birmingham and Southampton. At Birmingham the Empire Theatre was damaged and so was the Art Gallery". Note – the buildings just mentioned were damaged more than 3 weeks ago – in fact the Empire was burnt out. The gas was much improved. No raid.
28th November 1940
I hadn't started my tea tonight when the sirens sounded and soon we heard heavy bombers ploughing their way Northwards. They seemed to take two routes. I went into Mr Bartlam's shelter and was soon asleep. It was Mr B's turn to watch until 2 a.m. I slept soundly despite gunfire and dozens of planes going over. All clear went about 5 a.m.
11th December 1940
After two quiet nights a raid started early. Sirens went at 6.30 and very soon the sinister sound of the German night bombers was with us, and save for a few minutes interval after an all clear, we were having plane after plane coming over all night long. The all clear just mentioned only lasted 5 or 6 minutes before the sirens were wailing out again. The all clear finally went at 7.30 a.m. 13½ hours of what was at times real hell.
Up to midnight there was very little A.A. fire, but from about 11.30 and especially after 12 o'clock the barrage was pretty heavy. We heard many bombs whistle down – one or two shook the shelter and we heard the crash of bricks and tiles. Fitful sleep came to us about 5 a.m. – we were in Mr Bartlam's shelter, Miss Burton was in Mr Griggs'.
12th December 1940
I was up before the all clear went and we soon got a fire going and breakfast on the go. Got off to work soon after 8 o'clock and was fortunate in getting on a bus before the big crowds collected. Many windows smashed in Acocks Green – many roads near Fox Hollies closed. Sad sights of ruin and damage top of Cole Bank Road, starting by the railway bridge and again amongst the big houses at the bottom end of Swanshurst Lane. We literally rode over bricks and rubble in places – a gang of men with brushes were just coming along one road. Another detour along Yardley Wood Road – more damage near Moseley Golf course. At work at 9.30. Sirens went at 7 p.m. all clear at 4.30 a.m. Passing over in big numbers.
The raid of 11th and 12th nights was very severe, many land mines were dropped. Small Heath, Handsworth, Selly Oak, Hall Green, Acocks Green all suffered – and many other districts too. Several land mines did not explode – one was hung in a tree near Bournville. The raid on the night of the 12th was against Sheffield and was very heavy – with heavy casualties.
13th December 1940
No raid.
14th December 1940
Dorothy met me at Bournville. We intended to do a bit of Xmas shopping in town. We went without dinner - I had a sandwich or two. Rain set in and it poured all afternoon. Very unpleasant. Big crowds in town – we only visited a few shops. Came home, wet and cold, by the 44 bus. It had to make two big detours – journey was mostly a succession of houses with broken windows – houses blown to bits – damaged schools and churches. Got home just before 5 p.m. A pool was just forming on the bedroom floor from a leak in the roof – 2 other wet spots on bathroom ceiling.
15th December 1940
On a walk into the village I saw the damaged Church House – tiles off – pools of water on the floor – but the clock was still ticking amidst the scene of ruin. The roof is completely off one side of Acocks Green church – the pipes of the organ were strewn over the pews. Several houses in Arden Road also wrecked.
We have a number of men digging in front of the house in "our bomb hole", getting down to repair sewer pipes etc. They started on December 6th and are still at it. Our grass plots are full of planks, pipes, cinders, lamps and a hut. 
1941
11th January 1941
They finished repairing the bomb hole near the house. 25 yards of sewer replaced on our side and some more opposite.
31st January 1941
Here in the Midlands we have had no sirens this week from Monday 27th to Friday 31st inclusive. On Wednesday 29th I had a half-day –my Xmas holiday – and I used it to bail out the shelter and then with the help of Dorothy I took out all the wooden seats and linings. It was an awful job, for as we were finishing the water had filled the sump holes and was covering the floor again. The shelter has been unusable for weeks and weeks, but we have managed to keep the water in check and into the sumps until this snow and the thaw. Dorothy took 34 buckets of water out yesterday, and at night before bedtime I removed another 5. The work of days and days in making the seats and bunks took 2 hours to remove. I left the step portion in position – but otherwise I have now saved all the wood. I had the remainder of my Xmas holiday with a half-day on Friday 31st.
1st February 1941
Today on leaving work I thought I'd make a pencil sketch of trees on Bournville Lane.
14th February 1941
A surprise – men came down the street replacing tiles on all houses.
27th February 1941
The nearest balloon broke away in high winds. Replaced 2nd March 1941
24th August 1941
(A feature) of our walk was the number of brick built surface shelters marked "closed". Unfit for use because of poor mortar. We counted well over a hundred such shelters. Such workmanship is a scandal – but all over the country there are thousands of such shelters still to make fit for use. Birmingham city centre has a considerable number – many of these have been rebuilt – many more need rebuilding – and in the suburbs there is the same wilful waste of public money on erections that instead of protecting life merely gave the occupants a false sense of security.
30th August 1941
A free Saturday and the start of my week's holiday – my second week. I went out to Henshaw Mill near Solihull and made a drawing, but the morning turned very cold and I was glad to pack up and walk briskly back across the fields.
7th September 1941
The barrage balloon in the old Midland Counties Depot has caused many changes to be made immediately around it –many trees have been cut down – but none so drastic as the cutting "short" of the lovely big tree on the island just at the junction of Dalston Road and the gulley – and also the first big tree up the gulley. Another large tree in the garden of the house below the depot has also been severely cut down. The road seems very bare without the trees.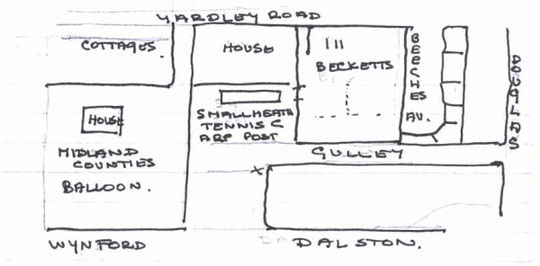 21st September 1941
I registered today under a new order for civil defence – for fire watching. All men between 18 and 60 had to register. As I do it at the works I could apply for exemption – and in addition I joined a street party well over a year ago so the new Act will make no difference to what I am already doing.
A nice evening – and we broke new ground with a walk – to the Sheldon terminus and then walked on through Elmdon Hall park (there are troops there now) and through fields that lead to Olton. We came across one bomb hole in the fields near Elmdon Hall and saw ruins of nice houses that had been completely destroyed not so far from Olton station. 
1942
28th July 1942
As I went to work I noticed that Oxford Road was stopped up – a Delayed Action bomb. A bomb also fell near Greswolde Park Road and did some damage. We were in our shelter and felt the earth tremble.
29th July 1942
In the early hours of this morning we had another raid – it lasted from 1.35 a.m. to 4.05 a.m. Incendiaries fell right at the start – not too far away either. The incendiaries were mostly of the explosive type. We learnt later that incendiaries fell in Alexander Road and on the Yardley Road, Oxford Road, the Avenue, Malvern Road (where a man was killed by one). The fire bombs dropped by Jerry are of a new type – some contain powerful charges of explosive and some contain phosphorus and one type is heavier than the usual type. One pierced a house in Alexander Road and went right through to the basement including the house floors.
30th July 1942
We had got the shelter ready before going to bed, and very cosy and comfortable it looked, so when the sirens went in the early hours of this morning we were all ready. The sirens sounded at 1.00 a.m. and the all clear was about 3.25 a.m. Three lots of incendiaries were unpleasantly close – the nearest batch being by the canal bridge (Yardley Road) and Mansfield Road, where there was damage and we believe one fatal casualty. There was a fire at Marb-lustre wooden buildings. The incendiaries were of the explosive type and went off with loud reports, some seemed to be much later than the 2 minutes.
Although the raid was bad enough it did not seem to produce results as damaging as the Germans say. The new type incendiaries are pretty terrible and there seems to be a doubt as to how to deal with them. Many people have been killed and injured while tackling them – they are not the easy proposition that the old type were.
The new "rocket gun" type of anti-air defence was in action for the first time during the week, and by the bursts in the sky is spectacular to look at, but by all accounts a bit dangerous for us, for the tubes come down intact, and there were at least two that came down unexploded at Bournville. These went 17 feet into the ground. Some damage "by something" was also done down Cottesbrook Road.
31st July 1942
I was fire watching at Bournville and did not relish leaving Dorothy and home – but we had a quiet raidless night.
1st August 1942
Home early to start the holiday – we have Saturday and Monday and I am having Tuesday. This afternoon (Saturday) we went to Rowheath and listened to the band – it was an ideal day and we took our tea and had a picnic tea under the trees. Later we went down to the Valley Pool, where the children were interested in the model boats and model railway.
15th August 1942
A nice Saturday. I went out sketching in the Alvechurch direction where Miss Godwin has a caravan. (Note: this was like a gypsy "Vardo", and was a horse-drawn 1st World War van (ed.)). I went with Miss Wheelock of the Design Office and we found a good subject, and we had a lovely tea provided by Miss Godwin.
16th August 1942
We had a lecture at the works by the Second Officer of the Works Fire Brigade on the new incendiary bombs. These are pretty terrible – as we saw in the recent raid. They are the logical result of "progress" in such weapons – and the right thing to do from the German point of view, especially as we have so many times advertised how fire watchers mastered the fire bombs and how children could tackle them – and had done so on occasions. Several varieties were used in the recent raids – some that exploded at times from 2 to 5 minutes – another has a 12 lbs TNT charge – another that "jumps", and a type of phosphorus bomb. Many duds were dropped in the recent raid – Mr Lee, who gave the lecture, said that they had over 400 in town.
12th September 1942
Today – in the London dailies and in the provincial papers is published a picture and details of the new German fire bomb. The "improved" incendiary that we used to know so well but with an explosive charge added…and it was July 27th when Birmingham had first hand experience of them – and many people were killed and injured by tackling them as they had done the old incendiaries which just burnt.
The advice of the authorities was, I believe – leave them to burn unless you have cover – this was for fire watchers as far as I can make out – for the fire brigade with their powerful hoses could tackle from a greater and safer distance. Later the time to leave them was stated to be 5 minutes, and then it became 7 minutes and that you must have the protection equal to a brick wall if you tackled them before that time. No details of the bomb that send out 60 pre-ignited fire pots has yet been given. Why wait all this time before giving details to the general public.
22nd November 1942
Jean and Arthur went to the Wesleyan Sunday School – Arthur for the first time. Jean had been before she went to Thurstonland during the bombing winter.
We (Dorothy and I) went for a walk and on Gospel Lane saw the result of a bomb explosion in the front garden of a house of similar construction to ours – a frame construction. The front walls were blown away – most of the roof remained – the framework was intact. All along I have felt that our type of house MAY stand the blast of a bomb better than many brick built houses, but this was the first example that I have seen and it supported my theory.
24th November 1942
Thinking back to the July air raid – a really big bomb fell in the gardens back of Sherbourne Road – they say the crater was about 40 feet deep. It did considerable damage to many houses but it fell in a very fortunate position. We felt it here and we have heard it said that grit and small stones fell on Douglas Road, which is a very considerable distance away with the railway cutting in between.
25th November 1942
I went down to the School of Art and saw Mr Holden. He gave me a very good criticism of my sketches and I spent a very valuable hour. He says I must go down again in about 2 months. 
1943
9th April 1943
Our barrage balloon deflated, it was removed and not replaced.
25th April 1943
Church bells rang for the first time since the fear of invasion: they had been reserved for use as a signal.
7th September 1943
Fire watching officially ended. 
1944
17th September 1994
Blackout officially ended, "Dimout" began.
12th December 1944
It isn't often that someone calls and brings money with them – it's mostly paying out these days – but tonight we had a surprise. Mr Lee – the A.R.P. Warden called and brought us our portion of the share out of the Fund that our section had formed, for compensation to anyone injured by bombs etc. We had been paying 3d per week since the fund was started and tonight we received £2 11s 8d, a very nice sum.
24th December 1944
What a surprise we had this morning – about 10 mins to 6 a.m. The Sirens! Quite like old times – and we heard the distant sound of sirens Solihull way. I got out of bed – it was inclined to be dark and misty so I got back into bed again, deciding that I'd stay there unless things got more active. In bed we stayed awake – we heard some thuds and also sounds that were like distant gunfire. 
1945
23rd April 1945
After 5 years it has been our habit to look at the curtains after switching on - the hours we have spent putting up black out shutters and drawing curtains, and now we can light up without fear of wardens and police.
27th April 1945
Bus lighting restored. How strange it seems to see the buses well lit, upstairs and down, headlights on as required. The streets will look like fairyland when the lamps go on again at full power.
8th May 1945
PEACE in Europe, at any rate. In England anyway. For years now I have come down in the morning switching on the radio to get the news - hearing bad news, disasters, setbacks - with good news from time to time...Now it has come, bit I feel no great excitement. I feel just thankful that it is all over....no more sirens, a chance to go to bed without fear of waking up to the sound of falling bombs. Decorations were springing up yesterday. Today they are appearing as if by magic - festoons across streets, banners and flags everywhere, and flags of all the Allies as well as the British - and some flags that don't seem to belong to any country. After tea we had a walk down Small Heath. Here in this bombed area there were many decorations and preparations of big bonfires in many streets...After supper we toured some of the streets near home. There were bonfires in every street, two along Bramley Road, fireworks, dancing, music, eating, drinking - but they were very orderly crowds, and the children seemed to have been specially catered for. The sky was glowing with the light of many fires and we did not sleep very well for the noise of fireworks and music amplified by loudspeakers was all around us. A very noisy night.
9th May 1945
Another night of bonfires and meals in the street. Douglas Road had a big fire, and Alexander Road had two affairs going on at once. One had wireless music and lights strung across from the houses, and the other had an accordion player. Down Francis Road they had a very big fire yesterday night. It was piled high, and they had made a covered stage with a piano on it in a space between two houses.
16th July 1945
A great event. Our street lamp is lit for the first time. How strange it seems, lighting up the front bedrooms, and we can see all the way up Bramley Road.
14th August 1945
Another day of no news. We went to bed at our usual time. I seemed to wake up about midnight and hear in my sleepy state bangs and bumps like fireworks. Soon we heard whistles - they sounded like train whistles - there was shouting in the streets and more fireworks close to home. Then we heard a siren giving the "all clear" (good old sirens) - a final all clear we hope. I looked out of the window - houses lit up, and voices in the streets. Engine whistles still blowing. This is the day we have been waiting for - VJ Day - the end of the war. Silence at last, and we were soon asleep again.
15th August 1945
At night we made a tour of the bonfires. Along Bramley Road there was a big one, and at the far end there was another (here we saw two men cutting down one of the street trees). Bonfires and dancing on Alexander Road to music played by an accordionist of some ability. Another big fire down Francis Road, where they also had a dance band on a stage built between two houses. A noisy street compared to its neighbour Florence Road, where they had an open air cinema showing a Mickey Mouse film when we went down. Quite a lot of people watching. The chip shop was open at a late hour. We joined the queue and thoroughly enjoyed some chips that were very nicely done - and so home and to bed, but not to sleep for some time, for there was din and noise, fireworks, shouting and talking, singing and music going on all around. Down Beeches Avenue they had what appeared to be a dance band - we were asleep before they packed up.
Air Raid Precautions and civil defence
Anti-aircraft and barrage balloons
Rover shadow factory at the Vineries
Austerity and saving resources
Extracts from the wartime diary of Frank Taylor Lockwood
Memories of a child's life in Tyseley, by Alexander Hook
Memories of Acocks Green school, by Alexander Hook
Memories of Acocks Green, by Arthur Cundall