The end of the war
Oswald Ensor, interviewed in 1977
I think, when we came to V.J. and V.E. Day and situations like this, people rallied round, and I well remember a stage being set up, children being done up as minstrels and everyone dressing up. We had races up and down the road, and marches round, going down Florence Road, Cottesbrook Road in turn, paying our respects to our neighbours as one might say, but it was a situation that went on well into the night, and everyone had a cracking good time.
Mrs Robbins, of Hazelwood Road, interviewed in 1977
I think the (sense of brotherhood) broke up again. I think so. Everyone went back to living their own lives...it lasted a bit, you know, the great joy of the war being over, and everybody was happy, and everybody was friendly...but the aftermath, I think...I mean things were still hard for us, and the community spirit died I think to some extent.
Tom Morris, of Westley Road, interviewed in 1977
The relief was indescribable, because you realised you weren't going to spend another night sitting down, completely impotent, hearing them going over. That was the thing that got you. You couldn't do anything. You were sitting there waiting for the noise and they say that if you could hear it you was all right, it didn't hit you. if it was yours you never heard it at all.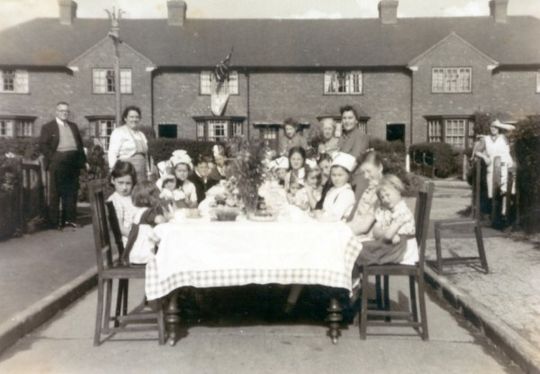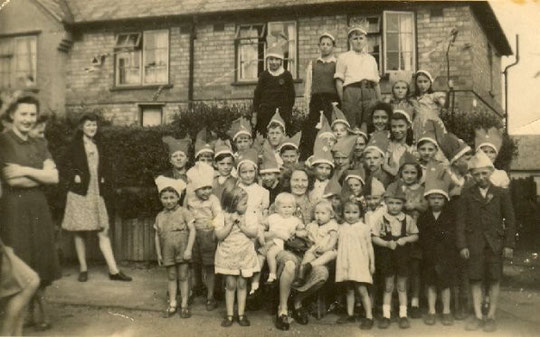 Frank Taylor Lockwood's diary contains references to the street parties for VE and VJ Days near to his home.
Schoolchildren received a letter from the King.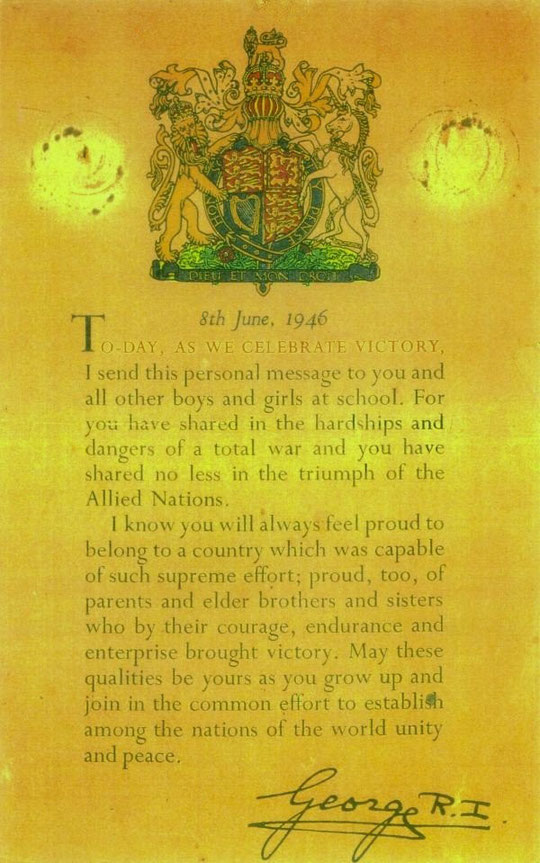 In Birmingham as a whole 77 air raids killed 2,241 citizens and injured 6,692. 140,336 homes were damaged, 12,125 badly, and about 4,000 completely destroyed. 4,003 business premises, 2,365 factories and workshops were damaged. On 19th/20th November 23 districts of the city were hit with 646 HE bombs. On 11th/12th December 1940 the raid lasted 13 and a half hours. Total war affected family life very badly. There were shortages of food and clothing, there was the worry and fear of husbands, brothers and sons being killed fighting, and many were bereaved. There was the terror and lack of sleep caused by the air raids, and the damage to homes, shops, streets, water, gas and electricity services, and workplaces. Women had to keep the family together and also had to work on the land or in factories, and take part in dangerous anti-aircraft or firewatching duties. In many cases they did not have their children at home for several years if they had been evacuated. However, women had more money because of their jobs, and many did enjoy a good social life, with cinemas, theatres and dance halls open. Libraries and the radio were very popular. At the end of the war, the family had to get used to living with their fathers and sons again, who had spent years witnessing injury and death, avoiding death and killing enemy soldiers. These experiences upset many men very deeply, and changed them. Furthermore, their wives had enjoyed some freedoms during the war, despite everything, and had to get used to doing as their husband told them again.
Air Raid Precautions and civil defence
Anti-aircraft and barrage balloons
Rover shadow factory at the Vineries
Austerity and saving resources
Extracts from the wartime diary of Frank Taylor Lockwood
Memories of a child's life in Tyseley, by Alexander Hook
Memories of Acocks Green school, by Alexander Hook