Arden Road
Arden Road must be one of the premier roads in Acocks Green, not because of Victorian mansions, but because of the excellent houses built right at the end of Queen Victoria's reign and in the Edwardian period. Researching its development has its complications, as the road has been known as Flint Lane, Back Lane, Quality Lane, Flint Green Lane and even Flint Green Road.
As the extract from the Tithe map shows below, by the 1840s there was a small number of buildings on the road. The ones in field 789 were replaced by 44 Flint Green Road (Bedale/Avondene) by 1880. These were a stable and gig house for Sarah Crane's Flint Green House on the other side of the green in 1841. Four agricultural labourers and their families are listed between Flint Green and Rushall Lane (Stockfield Road) in 1841, but the lane is not named. In 1851 there are still four families, including two journeyman tanners and a wheelwright, but it is called Back Lane near Warwick Road. The building in 755 was one of the dwellings in 1841. The census shows it and surrounding fields owned by Francis Mole and occupied by John Watmores. It was reduced in size by 1904. However the cottage at 790 is probably number 111 (Rose Cottage). The cottages at 794 (numbers 89,91 and 93) are listed. By the time of the 1886 Ordnance Survey 25 inch map a second cottage had appeared just west of Rose Cottage (number 99), and a pair of Victorian villas and a detached house near the west end of the road. From left to right these are number 41 (The Laurels), number 43 (The Hollies) and number 45 (Mossleigh). Both The Laurels and The Hollies are listed in 1883, and these and Mossleigh may be earlier. In fact the occupants of Mossleigh in the 1880s are a family called Halliley and the name appears not only in 1876 but on the 1871 census adjacent to one of the same names as in 1881. So Mossleigh may date from around then.
The Tithe map shows the cottages near the Flint Green Road end occupying a long thin strip along the roadside. Perhaps these had their origins as encroachments. In any event, deeds for number 111 show a second parcel of land for the garden behind, with the original boundary passing through all the buildings up to Greswolde Park Road. This is shown on the image below the Tithe map extract below.
It is now possible to see the sequence of large-scale O.S. maps online at www.old-maps.co.uk. For this road enter the co-ordinates 411782 and 283717, and choose the 1:2,500 maps up until 1952-4 (there is no map at this scale for the 1930s). Use the enhanced zoom and the plus and minus buttons to change how close you wish to see the houses. The map can be dragged by using click and hold as normal.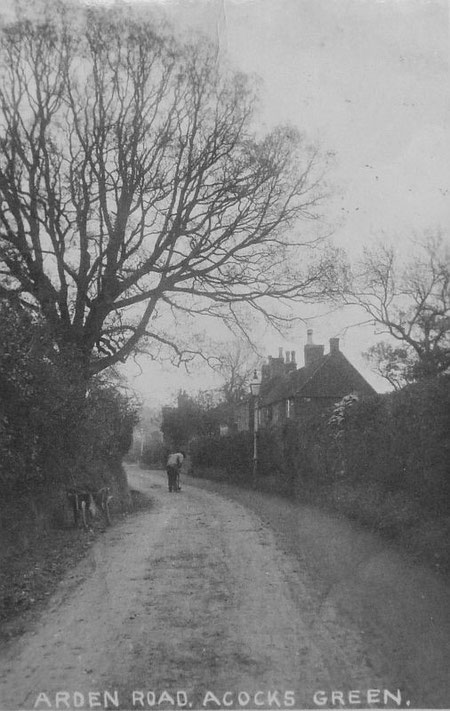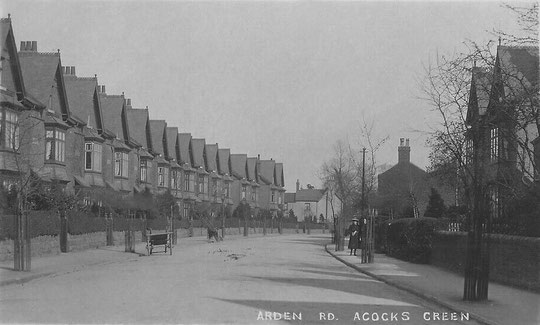 The next period in Arden Road's development is right at the beginning of the twentieth century. The 1901 census shows that the houses from number 80 (Hillsborough),  (and therefore 78 (Haselour), the other half of the pair) right through to 116 (Bowden), as standing.  Other names are 82 (Weedon), 84 (Watford), 86 (Rashwood), 88 (Grosley), 90 (Charfield), 92 (Ashby), 94 (Bescot), 96 (Lyndhurst), 98 (Causton), 100 (Bayton), 102 (Elvedon), 104 (Moulton), 106 (Newton), 108 (Denton), 110 (Charlton), 112 (Felton), 114 (Newlands), and 116 (Bowden).
According to Maggy Nicholson, some were under construction in 1899: see below. By the 1903 directory the detached house number 76 (Ardenhurst) is listed, as well numbers 95 (Cleeve), 97 (Whitmore) and 59 (Pensarn/Tracey). Numbers 95 and 97 have leases dating from 1902 and were sold that year (Alan and Maggy Nicholson). By 1904 numbers 74 (Clemsford), 72 (Pentlow), 51 (Ivydene), 53 (Ketley), 55 (Westoe), 57 (Netherby), 83 (Durley), and 85 (Linden) are shown. By 1905 63 (Ferndale), 65 (Linwood), 67 (Westwood), 69 (Cheltondale), 73 (Penrhos and therefore also the other half of the pair 71 (Denverley), 75 (Thirlmere), 77 (Sheila/Sheild, not listed but standing), 79 (Burnham) and 81 (Wenlock) are to be found. On the other side of the road numbers 60 (Henley) and 62 (Oakdene) are there by 1908, and 64 (Brockhurst), 66 (Crafnant), 68 (Cresta)  and 70 (Glenthorne/Ellswood) qre listed by 1907. By 1909 56 (Newlyn) and 58 (Llanelly) are listed. Alan and Maggy Nicholson's deeds show the lease date for number 59 as 24th June 1899, although it was not sold until November 1901. Perhaps it was the show home, which might also explain the slightly different design. 
Numbers 118 and 120, next to the Mission (number 126, opened in December 1908), appear in the 1935 voters list. At the other end of this side, numbers 32-36 are listed by 1933, and numbers 42 to 50 by 1932. Number 50 was built c. 1926, and number 52 first appeared in directories in 1938. Numbers 54 and 54A also appear first in the same year. Numbers 47 and 49 are listed by 1936. Alan Nicholson has told us that number 50 was owned by a neighbour, and that he left the house to the 'poor of Cleobury Mortimer'. No such charitable institution existed: resolving ownership must have been interesting!
Number 61 was built c. 2008. Number 30 dates from 1990. Numbers 110 to 116 were destroyed by bombing and were rebuilt c. 1947. Numbers 118 to 124 are replacements c. 1967 of the pre-war 118 and 120.
In 2011 new housing has been erected between the corner of Flint Green Road and number 111.
We are aware that more work needs to be done on dating. Any help would be welcome!
It is now possible to see the sequence of large-scale O.S. maps online at www.old-maps.co.uk. For this road enter the postcode B27 6AQ, and choose the 1:2,500 maps up until 1952-4 (there is no 1937 map at this scale). Use the plus and minus buttons to change how close up you wish to see the houses. The map can be dragged by using click and hold as normal.