The Earl of Egmont and Acocks Green
Why did the Earl of Egmont choose to be buried at Acocks Green, given that most of his life had been spent in the United States and Canada? How far back did family connections go in Acocks Green, that might have made him see it as his roots? The impetus for this more detailed research has come from Gord Young, of Lakefield Heritage Research in Canada, who has kindly provided some very useful information.
To answer these questions we have to look at two families, the Percevals and the Baxters. The Percevals were part of the family that included the assassinated Prime Minister, Spencer Perceval. The Baxters had moved to Acocks Green from Edgbaston by 1858.
Our interest starts with Spencer Perceval's son, Frederick James Perceval, who died on 22nd July 1861 at Solihull, according to Aris's Birmingham Gazette. He was born on 6th October 1797. He married a Mary Barker on 25th July 1827, and their son Spencer Frederick John, or Frederick Spencer John (both forms are found in records) was born on 24th November 1829 in Belgium. This man (S.F.J.) is known to have lived in Acocks Green, in one half of the Gothics, just to the right of Stone Hall. The ground rent for the Gothics dates from 1858, and the house was probably built around the same time as Stone Hall. Spencer Frederick died on 21st May 1887.
To return to Frederick James, he was living at Herne Bay on the north Kent coast with his family in 1851. Mary Barker had died in 1843, and he had married again, to an Emma Gilbert, on 6th April 1844. They had children, four of whom are referred to in Acocks Green and Yardley. George Drummond Ince was born on 7th March 1847, and died on 19th January 1920. Charles Augustus Trevelyan was born on 19th July 1848, and died on 5th January 1898. Montagu William Cairns was born on 25th January 1850, and died in 1923. James Wilde Godfrey was born on 20th March 1854, and died on 14th January 1905. In 1851, the Census shows Frederick James as M.P. for Middlesex and Westminster. By 1861, the family had moved to Warwick, and Frederick James was listed as an Esquire. Shortly afterwards, he died, as we have seen. Emma Perceval died at Acocks Green in 1870, and George of Henley-in-Arden, and Charles and Montague of Acocks Green were administrators of her estate.
Spencer Frederick John is not listed in the Yardley directories we have seen until 1871. In the 1871 Census, he is at the Warwick Road with his wife Ellen, and Charles is boarding with them. However, his younger brother George is listed earlier, in 1868. Perhaps it was he who first lived in one half of the Gothics. George is listed at Henley-in-Arden at the date of his marriage to Marianne Baxter, and at is listed at Crocketts, Beaudesert with his family, in the 1871 Census, farming 205 acres. He is there in the 1872 directory, but in 1873 he is listed at Warwick Road, as is Spencer. It may be a reasonable assumption that they were both in the Gothics. In 1875 Montagu is listed at Warwick Road, and in 1876-77 he is listed there as a medical student, despite being described as a surgeon on his son Robert's baptism certificate in 1875, and he is still there in the 1878 directory. By 1881 Montagu was a G.P. in Greenwich. Meanwhile, George was farming at Waterloo Farm, just beyond Stockfield Road, but by 1876 he was listed at Park Farm, Barston in Warwickshire.
In 1881 James Perceval was visiting his brother Spencer in Eastbourne, where he now lived. James was described as an architect at that point. He married Jane Milne Louttit, a doctor's daughter from Blackheath on 2nd March 1882. In March 1883 the baptism certificate of his son James has him at Waterloo Farm, but described as a Gentleman. In 1884 James Percival (sic) is also listed at Waterloo Farm, Yardley, near Acocks Green. (There are no Percevals there in 1881). The 1891 Census has him at Albert House, Broad Road, Acocks Green. His six-year-old daughter Emma was born in Yardley, but his five-year-old daughter and one-year-old son were both born in Harborne, then in Staffordshire. This would indicate that he left Waterloo Farm after 1884. Perhaps he left the farm when George returned, to enable him to run it. His profession in 1891 is Cycle Fittings Manufacturer. From 1892 to 1896 he is listed in directories at Albert House, Broad Lane, Acocks Green. By 1901 he was no longer in Acocks Green, but in Hall Green,  at Hillcrest on the Stratford Road at the top of Greet Mill Hill between the later Brandon and Dunsmore Roads. He is listed from 1903 -5 a little further up the hill in a house called Penzmont, later number 979, near where Green Bank Avenue is now. He is described as a manager of a cycle company at this time: this was Copes Limited, cycle components and cycle spokes manufacturers, at the Accho Works, Park Lane, Aston. He died in 1905, as we have seen. From 1906 to 1909 Jane Milne Perceval is listed at 44 Park Road, Sparkhill, and from 1910 to 1913 at 87 Oakfield Road, Balsall Heath. After that she is providing apartments at 66 Belgrave Road, Balsall Heath until about 1926. After that she appears to have gone into rooms.
James's son Spencer Ralph was born on 7th September 1889. He married Mabel Newbold on 23rd March 1918, and they lived with her parents at 59 Ivor Road, Sparkhill. They all left there in the mid-1930s for a new house at 31 Primrose Croft, Hall Green. Spencer Ralph and his wife sent a wreath to the 10th Earl's funeral. He was described as a commercial traveller at the time of his mother's death at a nursing home in Moseley on 20th March 1940. He was still living at Primrose Croft when he died on 26th April 1968, and that is the latest association of Percevals with the south Birmingham area that we are aware of. His daughters had pre-deceased him. So we can safely say that Percevals were associated with south Birmingham for one hundred years.
No Percevals are listed at The Gothics in 1891.
Frederick Joseph Trevelyan Perceval, the Earl of Egmont who was buried at St. Mary's in 1932 was listed as being born in Acocks Green on 27th April 1873, as was his brother George Ernest Spencer, on 18th July 1874. Frederick was, according to local stories, born at Chapelfields Farm in Olton. This is in fact possible: see below. The boys were not baptised at St. Mary's, however. Both brothers were baptised at Barston, Warwickshire on 18th April 1876. People there recalled the boys as being rather wild. Their father was George Drummond Ince Perceval, and their mother was Marianne Baxter. Frederick's own family and three uncles lived in Acocks Green at one time or another, so that there was a strong Perceval family connection with Acocks Green and Yardley. All these three brothers were grandsons of a Prime Minister.
Before looking in more detail at the life of the Earl of Egmont, we need to look at the Baxter family. Edward Baxter was a woollen merchant, listed in 1851 with his family at George Street, Edgbaston, now George Road. George Street was a new road of elegant houses occupied by people of status. Edward had married Marianne Starkey at Brewood Independent Chapel in 1847. His company was Worsey and Baxter, which later became Samuel Worsey and Sons, of Union Street, Birmingham. Several of Edward's siblings were in the business, at least into the 1870s, and wills show a continuing relationship between the families until the 1930s. Samuel Worsey lost his first wife, and remarried, to Edward's sister Ann. They had three sons, two of whom were the Sons in the later company. He died in 1884, and his widow in 1889. 
By 1858 Edward Baxter was listed at Westbourne House, Sherbourne Road, and the 1861 census shows the whole family there, including a daughter Marianne, who married George Perceval on 4th October 1870. Maybe the rural location was attractive to Edward. Certainly his previous home lacked nothing in status. Perhaps Edward saw himself as a pioneer, moving into a new area alongside like-minded people to create a fitting social life concordant with his beliefs. He was a Congregationalist. Maybe the erection of the new building for Spring Hill College for training Congregational ministers, which opened around the time the Baxters came to Acocks Green, was a factor. It was not far away at Wake Green. Edward was a Trustee of the Congregational church at the corner of Stockfield Road and the Warwick Road, which was opened on 20th June 1860. Congregationalists had been active in the area since 1808. The new church was designed by no less an architect then Yeoville Thomason of Birmingham Council House and Art Gallery fame. In 1862 Edward was presiding over a meeting at the schoolroom belonging to the church, where a visiting lecturer from the United States was talking about slavery. Later Edward was appealing for help with paying off the building debt on the church, in April 1864. For Congregationalists, ministers might preach or lead worship, but they had no authority over congregations, which were independent in that respect. Perhaps this gives an insight into a possible Baxter mindset, independent of thought and valuing education and community.
Edward died in 1868, and his widow Maryanne/Marianne lived at Westbourne House until her death. In 1881 she was there with her sons Sidney and Ernest. Ernest is still there in 1891: at that point there are a general servant and a groom/gardener living in, replacing the cook and housemaid of 1881. Marianne was born on 22nd January 1828, and died on 8th January 1909. Probate was granted to Edward Baxter, manufacturer's agent, Ernest Harry Baxter, organist, and Anne Eliza French, widow. Effects were £4,719 13s 6d. Her grave is at St. Mary's, section D, row 5, number 15. Both Edward and Marianne originally came from Penkridge in Staffordshire. Edward's will shows that he died on 3rd December 1868, and left Effects of under £8,000. James Tolefree of Wolverhampton, Staffordshire, draper, and William Baxter, brother, also a draper from Birmingham, were Executors. William was in fact listed in the 1851 census with Samuel Worsey's family as an apprentice.
Edward's parents moved from Whiston in Staffordshire to Chapelfields Farm in Olton from some time in the 1860s, and Sarah Baxter was listed there until the 1874 directory. She later moved with two of Edward's siblings to The Avenue. Edward's father Joseph died at Chapelfields Farm on 21st December 1865. A will record of June 1866 confirms this. There was a burial at Key Hill in December 1865 for the same name. This will was revised in 1882 in the year of Sarah's death, to include Joseph Baxter, Edward's brother, into the settlement of the estate, which Sarah had not administered. He had chosen a life as a farmer, and ended up at Beauchamp Court, near Alcester, dying in 1890. Curiously, this revision may have led to a Chancery court case in 1897 of Worsey v Baxter. Perhaps the older Joseph Baxter had had a stake in 31 Union Street, which was revived by his descendants. Joseph Baxter is the name associated with the Chancery case. Edward, his parents, several siblings and three of his and Marianne's children are buried at Key Hill, a cemetery of choice for Birmingham businessmen and many Non-Conformists.
Interestingly, the 1871 census shows Edward Baxter, Marianne the younger's brother with the Percevals at Beaudesert. He is described as a merchant, and with them is a visitor, Pamela Mason, who will become Edward's wife in 1872. For about a decade the couple lived at Sherbourne Road, and somewhat surprisingly, perhaps, Edward was found to be running a boarding house in Brighton in 1891. He was back in Birmingham right opposite Victoria Park in Small Heath by 1901 as a commercial traveller, and then he was that and a farmer at Balsall Common in 1911. He died in 1918 and is buried at Key Hill.
Perhaps the wool trade brought the families together: in any event George and Marianne lived only five minutes away from each other in 1868.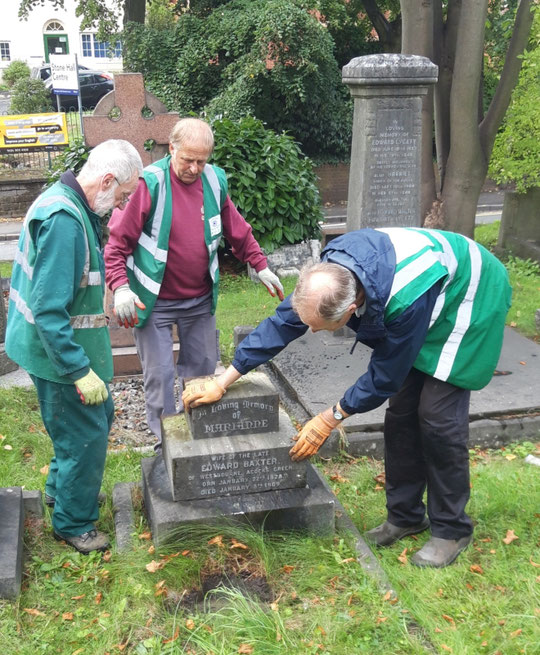 The younger Marianne Baxter was born in October 1850. After spending ten years of married life in Acocks Green, Yardley and Warwickshire, the family went to the United States, to Iowa.  The 1885 State Census shows they were in Jackson township, Taylor County. It appears that things were not going very well, as the family then came back to Acocks Green, ostensibly to finish the children's education.
The log book for St. Mary's school has the following entry on 1st March 1886:
Admitted two boys, George and Frederick Perceval aged 11 and 12 years respectively. They have recently come from Iowa, United States, where they attended a Science School. Their education has been sadly neglected, they not being able to do the most elementary work. I have however placed them in the Second Standard on account of their size.
And an entry for 18th May 1887 states that:
Mr Percival (sic) sent word to say that his son Fred was suffering from brain fever.
Newspaper articles report that the boys went on to spend time at Solihull Grammar School. One also says the boys lived at this time with their uncle, an organist. This would be Ernest Baxter, who was possibly not living at his mother's house then. Around 1891 the family returned to the United States, to St. Joseph's, Missouri, according to George Ernest's obituary, although they were once again listed in Jackson in the 1895 census. After that they moved to Canada, to Shepard, Alberta, and then to Priddis, Alberta in 1900, near Calgary. On 30th November 1900 they sold their farm in Jackson County (thanks to Neil Hall, Bedford, Iowa, and Lakefield Heritage Research for this information).
George Drummond Ince Perceval was nursed in his later years by Cecilia Moore, who married Frederick Joseph, and by Margaret Eadington from Liverpool, who married George Ernest. GDI died in 1920, and was buried on 21st January of that year in the Union Cemetery in Calgary, Section P, Block 12, Lot 55. Cecilia had died in 1916, and Frederick George Moore, her son, was looked after by his grandmother Marianne until her death in 1924. (Marianne was buried in Lot 54, next to GDI, on 21st April of that year). A map of the cemetery can be found here. A photograph of GDI's gravestone can be found here.
After he returned to Canada following his father's death in 1932, FGM, who became the 11th Earl, married Geraldine Moodie. The House of Lords formally recognised his claim to the title in 1939: his father had been 10th Earl de jure. They left Priddis in 1948 for another farm, and sold this in 1959 for over one million dollars. They then moved forty miles south of the encroaching city of Calgary to the Two Dot Ranch, Nanton. Geraldine died on 2nd July 1995, and the 11th Earl died on 8th December 2001, at the age of 87. Their son Thomas Frederick Gerald was born on 17th August 1934, and was the 12th Earl. He had no children. He died in November 2011, and the Title became extinct. George Ernest died on 10th December 1965, at the age of 91. He had given up his farm in the Priddis area when his wife died in 1946. (Acknowledgments to Gord Young of Lakefield Heritage Research for this information, and to the digitised history of that area near Calgary. This is such a detailed history of people's lives in that area: would that we had that sort of thing over here).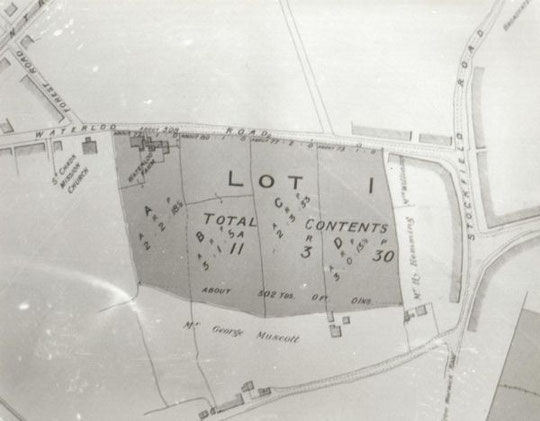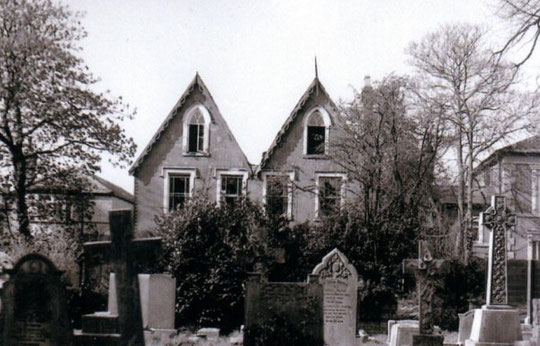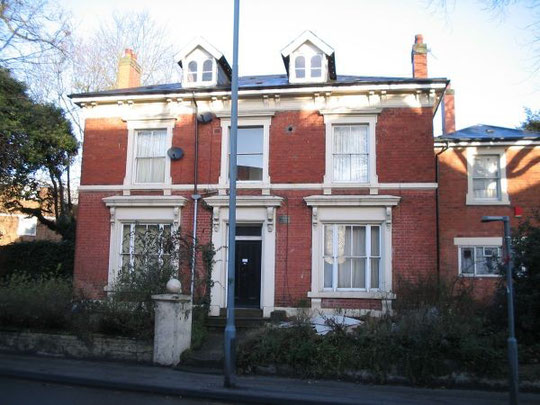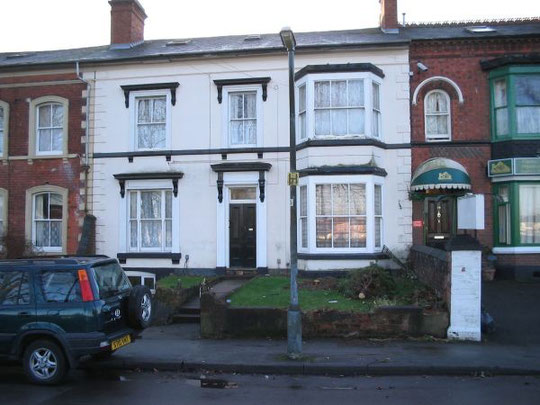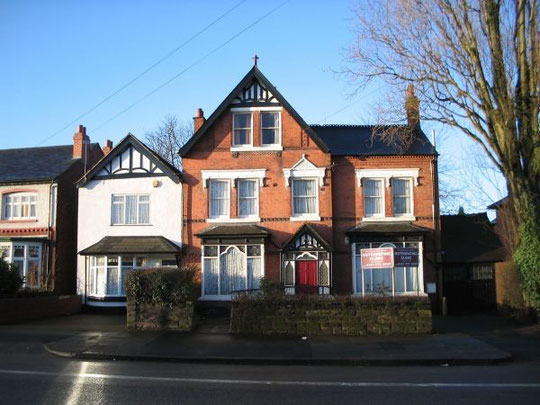 Extract from the O.S. map of Acocks Green, 1905.
The yellow dot shows Albert House, the green dot the Gothics, the blue dot Westbourne House, and the red dot Waterloo Farm.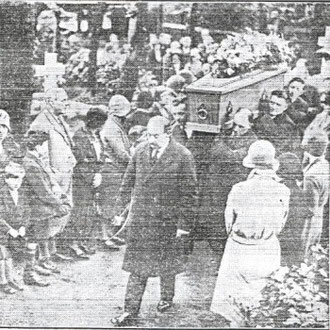 The 10th Earl died on 16th May 1932 following a car crash at Cadnam crossroads near Southampton. Hwas buried at St. Mary's, Acocks Green, in the place where he was born. Dudley Perceval, one of the mourners, lived at Wallingford in Berkshire. His grandfather Dudley Montagu was a son of the Prime Minister Spencer Perceval, and a brother of Frederick James. One of the wreaths at the funeral was from Mr and Mrs Spencer Perceval.
There are some Canadian websites which have photographs of the Percevals. The Glenbow Museum has an archive including the Percevals. 
The title itself (source: Wikipedia)
Earl of Egmont was a title in the Peerage of Ireland that dated back to 1733. Lord Egmont held the subsidiary titles Viscount Perceval, of Kanturk in the County of Cork (created 1723), Baron Lovel and Holland, of Enmore in the County of Somerset (1762), Baron Perceval, of Burton in the County of Cork (1715), Baron Arden, of Lohort Castle in the County of Cork (1770), and Baron Arden, of Arden in the County of Warwick (1802). All were in the Peerage of Ireland except the Barony of Lovel and Holland (Peerage of Great Britain) and the 1802 Barony of Arden (Peerage of the United Kingdom). The title became extinct in 2011.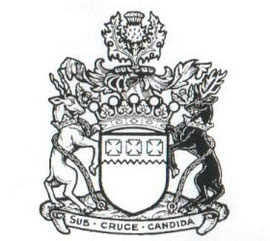 Another very useful reference is at Genuki, which shows that some privileges were originally gained from Queen Elizabeth 1st, as an ancestor had deciphered some secret Spanish documents which revealed Spain's intentions towards England. Another useful source is the Peerage website
Frederick Perceval did not succeed to the title without difficulty. In June 1929, the trustees of the Egmont estates asked the High Court to investigate whether he was entitled to the income from the estates, as against Joseph William Perceval of Hornsey, who also claimed to be statutory owner. Another claimant, Robert Pownall, a retired optician from Lancashire, appeared before the High Court in July 1930. He did not want the title, only the estates. Both claims failed. Frederick Perceval put up some pictures for sale at Christie's in December 1930, in order to pay death duties, and Mr Pownall entered a protest at the top of his voice, claiming them as his property. The pictures made £8,640 for Joseph Perceval.
At the end of March 1929, when Frederick and his son arrived at Ringwood, Hampshire, to take up residence at Avon Castle, there was no car to meet them at the station, and the crowd assembled on the platform did not like their flat caps. Reporters told Frederick that the dowager Countess of Egmont was going to refuse to move out of the house she had been in for many years. Time magazine (1st April 1929) continued the story thus:
"So the old lady don't want to move, don't she?" said Earl Fred..."Well, courtesy don't cost nothing", and he turned to the assembled newspapermen. "Do you boys know where me and the boy can get a plate of ham and eggs? I certainly don't want to crowd in on nobody." Viscount Perceval said nothing. The next morning everything was arranged. The dowager Countess agreed to meet "those terrible Canadians." The new Earl drove to his castle in the village hack, midst exploding railway torpedoes set off by the tenants, and there at the castle door stood a mournful butler in livery with a little black box in his hand. Diffidently, Earl Fred took the little box from the butler...[He] was officially installed...The 15-year-old Viscount slammed the door on reporters and cameramen. "Now perhaps you guys will leave my pop alone," he jeered.
Avon Castle, near Ringwood, Hampshire
This was built in 1878 at a cost of £80,000, and was bought by the then Earl of Egmont in 1912. The tenth Earl and his son did not use most of the house, and had no servants, preferring to do the chores themselves, but did employ seven gardeners to keep the grounds looking good. The house was a castellated mansion with embattled towers. It had twenty-two bed and dressing rooms, four bathrooms, four reception rooms, a billiard room and offices, plus stabling and garages. The estate comprised 1,322 acres, with lawns running down to the river, woods, walks, a three-acre lake, kitchen gardens and glasshouses, plus two farms, two more houses, and twenty cottages. The estate had its own railway halt, and salmon rights on the Hampshire Avon. When he came to England in 1938, the 11th Earl sold the estate, and it has since been broken up into lots and had luxury houses built in the grounds. The house itself now contains luxury apartments. The family sailed back from Southampton on the Queen Mary on 13th July 1938. The Acocks Green George visited England in 1948 at the age of seventy-three and returned on the Queen Elizabeth from Southampton on 7th April 1948.