1973 onwards
Stone Hall was opened on the 24th September 1973 as the new daytime and evening adult education centre for Acocks Green. It had been recognised that there was a need for daytime education for adults that was not being met. John Garvey, the Principal of Yardley Institute of Further Education wrote:
"It is an established fact that, in our changing and evolving society, the demands for all kinds of adult education have increased and will continue to increase. Adults, in their own right, have claims for the provision of a service which can satisfy these demands in appropriately adult ways and undoubtedly all areas of education will be enriched if demands for the education of adults are met. The value of such education, whether academic or of a social or creative activity, is not to be measured solely by any materialistic yardstick but by the quality of life it inspires in individuals and generates for the community at large. It is an agent changing and improving society; but for each individual the means of change may differ and each must develop in one's own way, at one's one level and through one's own talents."
Charged with running Stone Hall was Barbara Cherry, with June Harvey and Pat Bonser. Barbara had discovered how few the educational opportunities for women with children were. Stone Hall was to have a creche to make adult education possible for such women.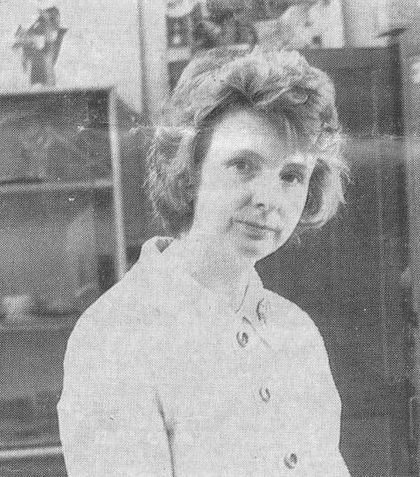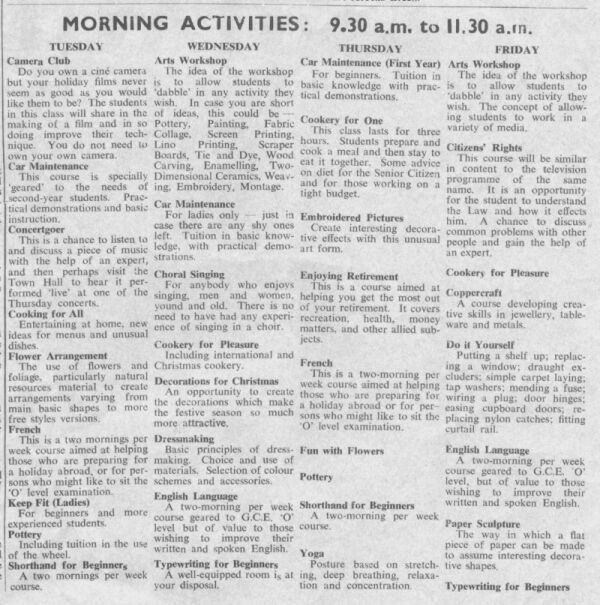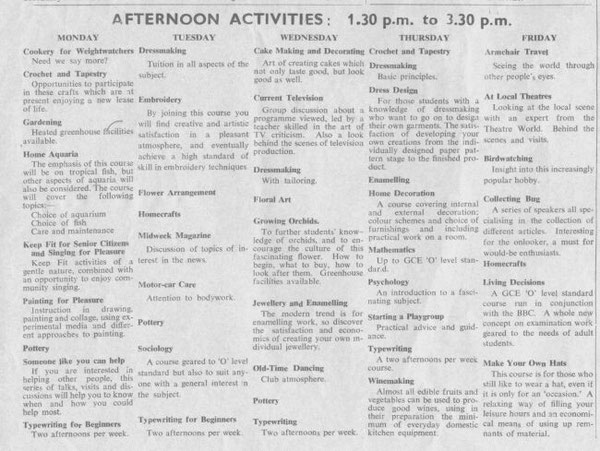 Morning and afternoon classes and activities as of September 1973
Around 1975 Barbara had an idea to commemorate the establishment of Stone Hall as an adult education centre. This came to fruition when a mosaic was unveiled on 12th March 1976. This combined elements of the history of Acocks Green with other images symbolising the Acocks Green of the day and the spirit of adult education.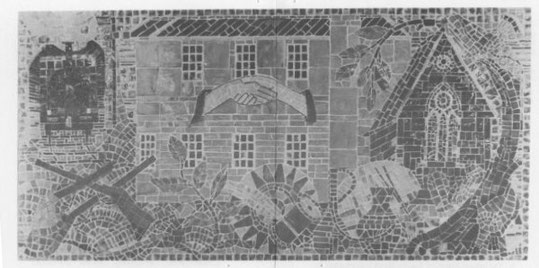 The train reminds us that Acocks Green developed as a railway suburb, the guns refer to Joseph Bourne, who lived at Stone Hall, the fox refers to local wildlife (and recalls no doubt Fox Hollies as well), the kestrel indicates the birds breeding at St Mary's church, and a variety of other objects indicate the range of classes: garden tools, a car wheel, a quill, a cotton reel, and a palette. The hand of friendship that community adult education fosters is in front of Stone Hall itself, which is seen alongside the church.
This mosaic was produced by the pottery class at Stone Hall. They made the tesserae, which were coloured using glazes made in the class using John Wild's expertise. Two retired men, Sid Bullowes and Frank Baldry, both students in the class, produced the mosaic under Mr. Wild's supervision.
Stone Hall rapidly became not only a hugely successful adult education centre but a true community centre as well. The common room enabled people to sit together, have refreshments and a chat, as well as go to classes. There were talks, for example a series of summer coffee mornings in July 1975, and there were visits, for example to Wedgwood and Royal Brierley Crystal. There was even a residential weekend in 1975 at Windmill House to study the 18th century. In May 1977 a Jubilee Garden Fete was held in aid of East Birmingham Hospital's Kidney Unit for Children. Very early on, in Autumn 1973, classes and activities were started for people with disabilities and learning difficulties, and those suffering mental health problems. Stone Hall also played its part in tackling the problem of illiteracy, which was identified as a serious problem in the 1970s. In 1974 START (Stone Hall Adult Reading Tuition) began, using volunteer tutors under the guidance of Pat Bonser, Vera Teague, Pat Robinson and Maggy Nicholson. Later some of the first English as a Second Language classes in Birmingham were held at Stone Hall, pioneered by Ruth Cross. Community lunches for local agencies and voluntary workers brought together workers for cross-sector communication.
Right from the start, Stone Hall had an innovative approach to adult education. Under Barbara Cherry's leadership, a whole variety of unusual and interesting courses and activities were started up and flourished, which reached groups in the community who had not been able to access adult education before, and who now had a second chance to improve their skills, get qualifications, meet people with a common interest, and have fun learning at their own pace and level. Housebound learners were served by class members and tutors who attended classes and then passed the information to their linked students at their own homes. Each volunteer had about six people to go and see individually. Chris Merriman, Sylvia Allen, Janice Moorhouse and Bernard Banner were some of the personalities who undertook this work, which was a lifeline for the housebound people. At least forty or fifty people at a time benefitted from this innovative service.
Stone Hall has continued to flourish up until the present day, although changes in government rules on funding have meant a partial shift in courses away from leisure and interest towards accreditation in areas like computer skills. Barbara retired in 1994, and is still very active serving the community ten years later, including helping to run Arts and Media at the Green, a cultural events group at Acocks Green Library. Also still active is Vera Teague, former Assistant Centre Head, who was involved in adult literacy even before START. She came to Stone Hall originally to run speech and drama activities for the handicapped. Vera taught public speaking and performance to many people over the years, and had a unique ability to foster her students' self-confidence and make them feel good about their abilities. Now retired, she still does voluntary work at Stone Hall and runs a reading and performance group at the Library.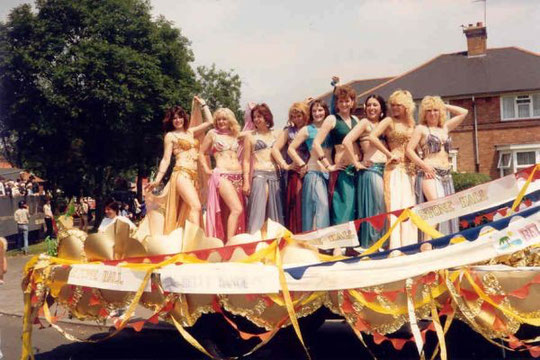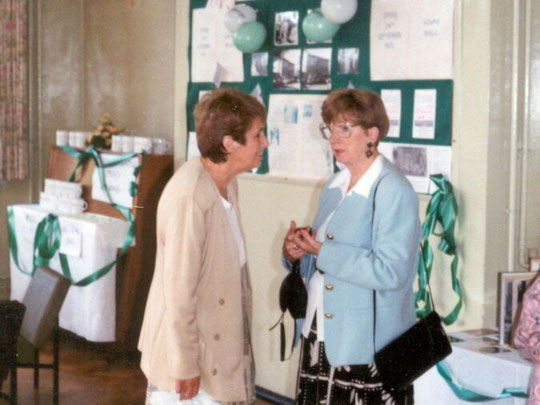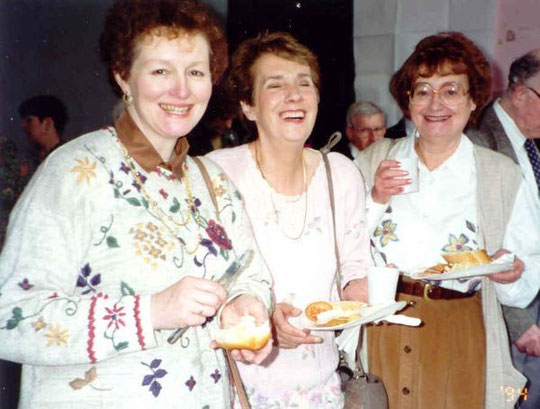 Stone Hall has been brought up to date over the last ten years in respect of fire safety and disabled access. The latest electronic teaching aids have been installed in the classrooms. Many classes lead to accreditation in important areas relating to employment, like computer skills. Free childcare is available. These days, funding is more readily available for those kinds of learning, rather than the broader subjects financed in the past decades. Many improvements have been made, and the Centre continues to play a vital part in the life of Acocks Green.