Appendices
Appendix one: maps of Birmingham's Educational Districts & School Lists in 1955.
Appendix two: Previous Schools of Children Admitted to Dolphin Lane Council School on 7th January 1929
Acocks Green Infants 50
Acocks Green Junior 41
(see notes below)
Ada Road 1
Albert Road (Aston) 2
Allcock Street 3
All Saints (Hockley) 5
Alma Street 3
Anglesey Street 1
Alum Rock 1
Anthony Road (Alum Rock) 1
Arden Road (Saltley) 2
Aston Council School 1
Barford Road 1
Bath Row 1
Basall Heath 1
Benson Road 1
Billesley 1
Bishop Ryder's C. of E. 1
Bloomsbury 1
Bolton Road 1
Bordesley Green 3
Bournville 1
Bristol Street 6
Broad Road (Acocks Green) 2
Burbury Street 1
Burlington Street 1
Camden Street 2
Canterbury Road 2
Chandos Road 1
Charles Arthur Street 2
Cherrywood Road 7
Church Road (Yardley) 1
City Road 1
Clifton Road 8
Colmore Road 1
Conway Road 5
Cotteridge 3
Cowper Street 2
Cromwell Street 6
Dartmouth Street 5
Deakin Avenue 1
Dennis Road 4
Dixon Road 8
Dudley Road 9
Elkington Street 2
Ellen Street 2
Elliot Street 1
Farm Street 1
Floodgate Street 3
Formans Road 1
Foundry Road 3
Fox Street 2
Garrison Lane 4
Golden Hillock Road 6
Great Charles Street 1
Greet 5
Handsworth New Road 1
Hay Mills 1
Highgate Street 1
Hobmoor Road 1
Holy Trinity (Camp Hill) 2
Hope Street 3
Icknield Street 1
Islington Row Wesleyan 2
Jenkin Street 7
Kings Heath 5
Leigh Road 1
Lingard Street 3
Little Green Lane 9
Loxton Street (Bloomsbury) 7
Mary Street 2
Miles Street 1
Moor End Lane 1
Moseley Road 1
Nansen Road 7
Nelson Street 1
Oakley Road 5
Olton 6
Ostler Street (Ladywood) 2
Paget Road 1
Perry Barr 1
Perry Common 1
Pineapple 2
Raddlebarn Lane 2
Rea Street 6
Redhill Road 5
Rookery Road 1
Ryland Road (Erdington) 5
St. Albans (Leopold Street) 5
St. Annes (Duddeston) 3
St. Asaphs (Bon Street) 3
St. Barnabas (Ladywood) 5
St. Benedicts (Small Heath) 1
St. Clements 1
St. Georges (Edgbaston) 1
St. Georges (Gt. Russell Street) 4
St. Georges (Hockley) 2
St. James 3
St. James (Edgbaston) 2
St. James (Handsworth) 2
St. Johns (Deritend) 2
St Johns (Ladywood) 1
St. Johns (Sparkhill) 1
St. John & St. Mary 1
St. Marks (Ladywood) 5
St. Marys (Acocks Green) 1
St. Marys (Aston) 1
St. Marys (Bath Street) 1
St. Marys (Broad Road) 5
St. Mathias (Hockley) 1
St. Martins Street 1
St. Matthews (Nechells) 2
St. Michaels 1
St. Patricks (Frank Street) 1
St. Pauls 2
St. Paul & St. Vincent 1
St. Peters (Harborne) 2
St. Saviours (Alum Rock) 3
St. Stephens (Selly Park) 2
St. Thomas (Bath Row) 1
Saltley College 1
Selly Oak 1
Selly Park 1
Sherborne Road 3
Smith Street (Hockley) 3
Somerville 2
Staniforth Street 1
Starbank Road (Small Heath) 1
Station Road (Aston) 1
Station Road (Harborne) 2
Stechford 3
Steward Street 9
Stirchley 2
Stratford Road 2
Summer Lane 7
Summerville Road 1
Tilton Road 2
Tindal Street 4
Trinity Terrace (Camp Hill) 2
Vicarage Road (Aston) 2
Warwick Road 2
Windsor Street 3
Upper Highgate Street 8
Upper Thomas Street 1
Yarnfield 3
Yardley Wood 6
Other listed schools in Birmingham, in the Midlands area or other parts of the country.
Cripples' School (Green Lanes) 1
Catholic School (Warwick Road) 1
Fakenham C. School Norfolk) 3
Ketchley (Shropshire) 1
Knowle 1
Lapworth 1
A Northampton School 1
Private School (Aston) 2
Stockingford C. of E. 3
Waterloo Road (Smethwick) 1
Wharf Lane (Stoke) 1
The records show the children admitted to Dolphin Lane Council on the day it opened came from one hundred and fifty seven different schools. However, the admission figures for Acocks Green Infant School and Acocks Green Junior School distort the overall picture of the school's initial intake as the vast majority, if not all the children noted, had moved into their new homes and attended those schools temporarily while awaiting the completion of the new school in Dolphin Lane.
No previous school was noted for one hundred and two children admitted on the day the school opened. Of these ninety-six were young children attending school for the first time but there were also six older children admitted with no previous school recorded.
Appendix three: Residential Roads of Children Admitted to Dolphin Lane Council School on 7th January 1929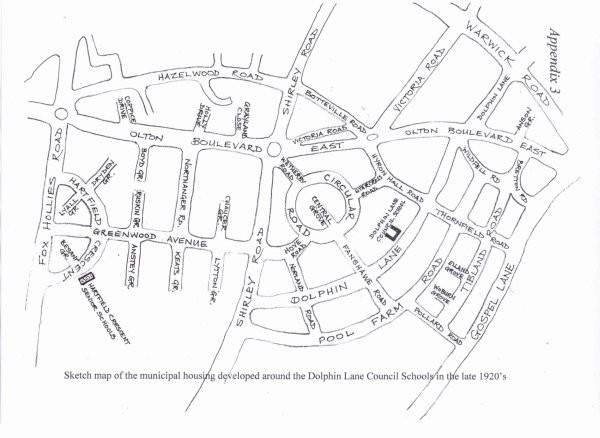 Anstey Grove 2
Bretton Road 2
Central Grove 20
Circular Road 45
Dolphin Lane 130
Dryden Grove 1
Elland Grove 3
Fanshawe Road 14
Gospel Lane 55
Greenwood Avenue 13
Hartfield Crescent 9
Hyron Hall Road 10
Keats Grove 1
Lytton Grove 3
Norland Road 13
Northanger Road 2
Olton Boulevard East 2
Pollard Road 42
Pool Farm Road 112
Ruskin Grove 2
Shirley Road 8
Starcross Road 8
Thornfield Road 23
Tibland Road 50
Wetherby Road 1
Wildfell Road 5
Woburn Grove 8
A total of 584 children were admitted on the day the school opened.
Appendix four: Memories -  Dennis Simons
Childhood in Acocks Green – the 1940's
When I was a child it is fair to say,
We had just as much fun as children today.
We would play marbles in the street,
Swapping comics with friends we would meet.
Dandy, Beano, Film Fun too,
We'd sit on a step and read them through.
Scrumping apples, just for a lark,
Rowing a boat in Swanshurst Park.
Down to Happy Valley to paddle a canoe
We had lots of things to do.
A piece of jam, a bottle of cold tea,
Then down to the canal we would flee.
Over the 'cut', through Jubilee Park,
Then play in the bluebell wood until it was dark.
Now it's always fun to play in a wood,
We lads pretended .. we were Robin Hood.
But where are the woods now for children to play?
They have all gone ... I am so sad to say.
Back home now .. for it is time for bed,
Time to lay our weary head.
Now of all the places I have seen,
I'm glad I was a child in ACOCKS GREEN.
Dennis Simons (Born 14th July 1932)
Dolphin Lane School : 24th August 1937 to 22nd July 1943
Section one
Introduction – Goodbye Green Fields and Country Lanes
Getting Started
Buildings – Meeting the Changing Needs
The School Staff – Comings and Goings
A Broader Education – Talks, Festivals and Visits
Concerts and Performances – A Chance to Show Off
Christmas Celebrations
Royal Occasions – Visits and Celebration Holidays
Physical Activities – Athletics, P.T. and Games
Fund Raising – Helping Others and Supporting Ourselves
Medical Matters – The Doctor, The Dentist and the 'Nit' Nurse
Accidents and Misfortunes – Cuts, Bruises and Even Worse
Transgressions – Naughty, Naughty!!
The Air Raid Shelter Saga – Keeping the Children Safe
Evacuation – From Birmingham to the Countryside and Back
Appendix 1 Birmingham Educational Districts & School Lists
Appendix 2 New Pupils' Previous Named Schools
Appendix 3 Sketch Map of the Local Roads Housing Dolphin Lane Pupils
Appendix 4 Memories – Dennis Simons