Section four
Fund Raising: Helping Others and Supporting Ourselves
Raising money to help those in need, as well as raising funds for its own use, has long been an integral part of school life. Today non-uniform days, or one of a variety of sponsored events, are the most popular ways of raising money whereas in the past the emphasis was on encouraging contributions directly from the children, often after they had had a talk about the work of a particular group or society.
Just three months after it opened The Midland Society for the Blind (which later became The Birmingham Royal Institute for the Blind) was invited to talk to the older children. Its object was to educate as well as raise fund for the Society to continue its work. On that first visit £1.3s.0d. (£1.15) was raised and in the following year the sum donated rose to £1.17s.6d. (£1.87). Regular successful appeals were made at the school by this charity before, during and after the war.
Also vying for the school's support was The Birmingham Police Aided Association. Its function was never clearly stated but the collection held in 1945 referred to 'clothing for destitute children.' The amounts collected varied from year to year. In 1937, for example, it was £1.10s.0d. (£1.50), in 1943 £2.7s.2d (£2.36) and in 1949 £1.13s.4d. (£1.66).
Birmingham is about as far away from the sea as it could be but the amounts of money consistently collected for the R.N.L.I. suggested this was the charity that most fired the imagination of the children and their parents. After its first appeal, in 1943, the Branch Secretary acknowledged -
'the outstanding effort made by the children in collecting
£31.0s.0d. for the Society'.
Further collections, ranging from £15.10s.0d (£15.50) to £21.0s.0d (£21) were made, and although the very first donation was never surpassed, the money collected for the work of this charity was far in excess of that raised for any other organisation.
The sale of poppies, in support of the Earl Haig Fund, was another annual appeal at the school. Following a service held in the Hall in 1937, £3.10s.0d. (£3.50) was raised from the 'sale of tokens'. The next year no mention was made of the amount of money raised but 467 'tokens' or poppies were sold. In 1941 the collection reached £10.8s.6d. (£10.42) but then declined gradually each year until 1948, when the last recorded figure was only £2.10s.0d (£2.50).
As well as the regular fund raising for named charities support was also given to occasional requests for help. In July 1934 lapel flags were sold in aid of 'Employment Day', while in May 1941 £5.4s.0d (£5.20) was collected and shared equally between 'The Overseas League Tobacco Fund' and 'Lord Roberts Workshops'. In December the same year £19.2s.5d (£19.12) was collected for Children's Charities. This substantial amount -
'in some measure made amends for the years when no collection had been taken. I am not entirely in favour of persuading young children to go on a round of friends and others for any such purpose.'
During May 1943 another collection was organised in support of 'The Overseas League Tobacco Fund', The Troops Fund' and 'The Lord Robert Memorial Workshops'. The £9.10s 0d. (£9.50) raised was divided equally between the three funds.
'In connection with this fund it is of value, I think, especially as soldiers overseas are recipients of a post card with their parcel addressed to this school, and when the post cards are received and read, generally they are well expressed in sentiment and spirit, and in many ways are impressive and inspiring. Last year most of our cards were from Malta and written during the siege of that island.'
Later in 1943 the children collected £2.3s.3d. (£2.16) for 'The Merchant Navy Comforts Week'. The Alexandra Rose Day Fund was an 'occasional' charity supported during 1946 and £1.0s.9d. (£1.04) was collected from the sale of roses.
The Infant children also played their part in fund raising. In December 1941 the children were asked to help raise money for 'Birmingham's Warship Week' and they certainly excelled themselves.
" A great effort has been made in the school through the National Savings Group. £142. 5s. 3p (£142.26) has been collected"
Another special effort was made during 'Wings for Victory Week' in 1943…
"…we have collected £116.4s.8d (£116.23) in War Savings. Flight Lieutenant Jordan spoke to the children this morning about his work in Coastal Command."
.. while during June the following year a staggering £267.0s.0d was raised during 'Salute the Soldier Week'.
Children raising funds individually or in small groups, as encouraged by the popular children's television-programme 'Blue Peter', is nothing new. A number of enterprising Dolphin Lane children made small articles –
'pen wipers, comb cases etc. and these have been sold to friends and relations.'
Among those creative children were:
Margaret Manning 10s.0d (50p) Olive Simmons 10s.0d (50p)
Sheila Holt £1.0s.0d. (£1) Nora Smith £1.5s.0d. (£1.25)
Margaret Rainbow 9s.0d. (45p) Audrey Reeves 6s.11d. (34p)
Sheila Russell 13s.1d. (65p) Doreen Beckett 4s.10d. (24p)
Beryl Young 10s.0d. (50p) Jim Finch £1.5s.6d. (£1.27)
Maisie Taylor £1.10s.0d. (£1.50) Class 2/1 17s.11d. (89p)
The children at Dolphin Lane were also recipients of help and support, sometimes from unexpected sources. Christmas parties regularly received financial help and occasional gifts of sweets but in April 1943 the Infant children,
"…received a gift of chocolate from the Optimists International Club in Toronto, through the Lady Mayoress's depot."
while February 1944 a surprise a parcel, containing toys to be distributed among the Junior children, arrived from Birmingham, Alabama.
'The toys are really of excellent design and purpose. They are very pleasing and in these days very acceptable. The children are writing their own letters of thanks for the toys to The British War Relief Society, Fifth Avenue, New York.'
There was another surprise delivery in the summer of 1948 when food parcels arrived from Australia for distribution –
'mostly to children having no father alive.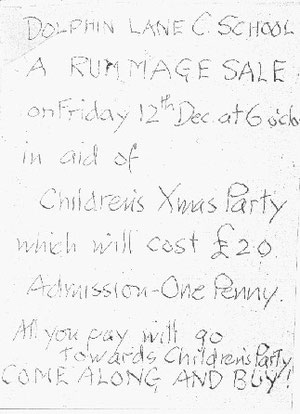 The money raised by the school for the school, came mainly from 'Rummage Sales' or 'Jumble Sales' and was spent on the children's Christmas parties.
Invited entertainers provided another, if small, source of income. In October 1930, Mr Vamber, a ventriloquist was hired to entertain the children.
'There was a charge of 2d. per head…this means a return of more than 50%of the takings to form a nucleus of the Christmas Tree Fund.'
The following year the same charge was made for the children to watch a conjurer and again 50% of the takings (£2.7s.10d. or £2.39) went into the school's funds.
Two years later the same ventriloquist returned but on that occasion 1d. was charged for entry and the proceeds used to pay for the prizes that had been given out at the recent Sports Day.
The only other entertainment referred to with the intention of raising funds was an 'exhibition
by Bruno Tublin's Puppets'
After the retirement of Mr Sutton fund raising, either for charitable purposes or for the schools own use, was rarely recorded. There is little doubt, however, that activities to raise money were organised and the children, parents and staff of Dolphin Lane School continued to support many worthy causes as well as raising funds for the schools own purposes.
This is borne out by Linda Harrison who recalls -
'There were Friday night Bring and Buys (later the Christmas Bazaar), when all classrooms had their own fund raising evening for parties. Roll-a-Penny, Guess the Weight of the Cake, Marbles in a Jar etc.'
Medical Matters: The Doctor, The Dentist and the 'Nit' Nurse
The physical welfare of children has always been a partnership between the home and the school. Advances in medicine, improvements in the quantity and variety of food available and a more affluent society suggest that today's children should be healthier than those of the early/mid 20th century and require less medical intervention within the school. Certainly the medical supervision of children in schools is now less than in the past but this more about using the available resources more effectively, and to a lesser degree, the fear of litigation (inspecting a child's head in today's 'politically correct society' may be seen as child abuse) than having healthier children.
During the 1930's, the 1940's and the 1950's school medical inspections by a doctor occurred regularly and played an important role in overseeing the general heath and welfare of the nation's children.
Dolphin Lane's first medical was carried out within a few months of the school opening and further medicals were held at regular intervals each year. These general health surveys, usually arranged for groups of twenty-five to thirty children at a time, were held soon after a child started school, when it moved from the Infants to the Juniors and just prior to moving on to Secondary education. Parents were expected, if personal circumstances allowed, to attend the medicals with their children. If a problem was found the doctor made a return visit –
'to examine again children noted as defective cases.'
It was not until after the war years that statements such as … 'all in good health', 'all were fit and sound.' and 'all very fit' … appeared after the examinations carried out on the older boys. No such comments ever appeared after the girls' medicals.
Even more frequent than doctor's visits were the nurses' surveys. These were usually for –
'the purpose of examining children with a view to the detection of vermin'.
The school had only been open a month when the first inspection of children's heads was undertaken. Subsequent visits, often taking two or three days to complete, were made twice or more each year and it was usual for every child to have its hair checked on each occasion.
Head lice was certainly a problem with some families and comment such as " children were excluded on account of verminous heads" regularly appeared in the records of both schools.
Children's teeth were also checked regularly. The first dental visit, in September 1930, was to survey 8 and 9 year olds, while in the following October it was the turn of the Infant children. Of the 388 children seen … 'more than 160 parents signed the dental forms for treatment.'
In January 1933 schools were formally notified by the Medical Officer for Health that -
'In future the dental treatment of school children will be carried out on the school premises.'
An inspection at the school a month after the policy change revealed two that hundred and eighty eight of the children examined required dental attention but only one hundred and forty-five of them agreed to have the treatment offered. Commenting on the numbers the Head teacher noted …
'Strangely enough the number of children requiring treatment is 50% (approx) of children in school and the number of children treated is 50% of the number requiring treatment.'
For the most part dental checks, when, every child in the school was examined, were from that time onward carried out annually, although as would be expected, visits were less frequent during the war years.
Visits by the school nurse to examine the children's vision were not mentioned until June 1946. Her calls were made at approximately two yearly intervals, with the 8 and 9 year old children being the target age group. For children with known defective vision there were more regular checks.
The children's hearing seemed to have received the least attention from the medical services. The aural nurse visited the school for three days in October 1938 but any other visits there might have been, either before or after, were not recorded. On the one-recorded visit four hundred and forty children were tested and nineteen were found to have defective hearing.
Protection against diphtheria was another service provided in schools. A doctor gave the course of three injections, usually in successive weeks. The school's first visit was in 1931 when approximately two hundred and fifty children were treated. In June 1933 ninety-one children had the protective injections and in 1939 all the children under 8 years old were inoculated. The first visit after the war was in 1946 when a check was made to ensure all the children then at the school had protection against the disease. From that time onwards visits to maintain the inoculation programme were made approximately every three years.
Over and above all the various checks outlined, extra visits were made by nurses to … 'examine children needing special supervision,' … to … 'inspect children's general cleanliness' … and to … 'follow up cases of dirty children.'
Despite all the medical checks and support available the usual 'childhood diseases' still appeared at regular intervals. Although it was the Infant children were more prone to the diseases, there were occasions when the whole school was affected. In March and April 1930 there was an epidemic of measles, mumps and whooping cough – 'attendance is considerably affected.'
and exactly a year later absenteeism was again high when there was an epidemic of measles, whooping cough and chickenpox. It wasn't until 1948 that the next epidemic hit the school and on that occasion influenza was the culprit.
'The
absences of teachers are unavoidable but it is unusual to have so many teachers away at the same time. The 'flu' epidemic has been of a serious nature in the Midlands and Birmingham especially.'
Before the next 'flu' epidemic, in January 1959, when as many as twenty children were reportedly absent from each class, there was another outbreak of whooping cough, measles and scarlet fever at the school. This epidemic swept through the Infant classes during January and February 1957 … 'causing much absence.'
Other illnesses that raised alarms and, in some cases led to exclusions, were scabies and infantile paralysis.
Although most of the general medical supervision was provided within the school, clinics were available for any back-up treatment needed. In February 1933 Dolphin Lane School was formally notified that …
'The work of the School Medical Service will be carried out, as from Monday 20th February, in a new clinic established at Stratford Road, opposite Springfield Road. The Greet Clinic will not be used after this date.'
Even with all the medical services available the Head Teacher was not entirely exempt from health related duties. In 1946 he noted -
'Head teacher spending much time in checking weights and measurement of children for allocation of Supplementary Clothing Coupons.'
'It was while I was in this class (Miss Hale's) I contracted diphtheria and almost died. I was in hospital for 13 weeks and in bed so long I had to learn to walk again,' Barbara Winfield (nee Harrison)
Memories of health matters were, for most past pupils, related to individual suffering but some also remembered the visits of the 'nit' nurse.
'I also remember the 'nit' nurse coming to school about once a month. I could not understand why I never had to have my hair washed and some girls did. I went on to be a hairdresser so when I did see children with problems with theirhair I understand how lucky I was that my mother looked after my hair.'
Carol Whopples (nee Tindal)
'There were extra clothing coupons for children over 5 feet 4 inches tall and over a certain weight. I had extra for being tall.'
Sidney Bardell
'Many wounds and rashes were treated with iodine and it was not uncommon for children to be painted with Gentian Violet.'
Syd Parsons
Accidents and Misfortunes: Cuts, Bruises and Even Worse
Minor accidents are an everyday part of school life and today every incident is logged. In the early years of Dolphin Lane School however, only the most serious accidents were recorded.
The school had been open two and a half years before its first accident was thought serious enough to note. On that occasion T.T. aged 6 years – 'fell from a desk and bruised and cut his ear.' The injury was sufficiently severe for the child to be seen by a doctor and for a report to be forwarded to the Education Office.
Shortly after another child 'fell from desk bruising his head', while the following winter G.T. was injured 'whilst sliding in the playground'.
A much more serious playground incident occurred in May 1933. While playing 'Release' two boys collided … 'and both sides received nasty cuts – W.M. to fore part of skull and D.N. to eyebrow of left eye.' With the consent of the parents both boys were taken to a local doctor 'who inserted stitches'.
It was certainly not only the boys who were accident-prone. I.B. managed to fall over in the cloakroom, breaking her arm, and soon afterwards M.P., in class 3/3, … 'fell from desk onto a radiator and cut her head.' Her injury was severe enough for her to be taken to the doctor.
The only school based accident recorded during the war years was that of an infant girl who fell over and broke her arm. A post - war accident reported by Miss Hood noted,
"…two boys collided in the playground near the centre shelter during the morning recess. G.C. received a bump on the forehead and R.S. a badly cut lip. Both boys received first aid treatment in school . R.S. was taken home. …The boys mother later took R. to the hospital where one stitch was inserted."
The incidents noted by Miss French, when she became the Head Teacher, were also relatively minor injuries – P.S. cut her finger and needed three stitches, while G.M. tread on a rusty nail and required clinical treatment.
These injuries paled into insignificance when compared with the tragic accident of Henry Hemming on 29th January 1948.
Henry … 'age 11years, acting as milk monitor, was run over and killed. He was hanging on the back of a Birmingham Dairy Co. milk lorry'.
The inquest, held at the Coroner's Court in Newton Street, returned a verdict of 'Accidental Death'. On returning this verdict the City Coroner, William Davidson J.P., added the rider …
'Head Teachers are to be informed children are not to be allowed outside the playground'.
Alan Taylor recalled this incident … 'I was in the junior school at the time when one of the pupils ……was riding on the back of a milk float outside the school when he fell off and was run over and tragically killed; the whole school turned out for the funeral cortege, which was routed past the school'.
Such a serious incident needed, and received, the attention it deserved from the teachers, H.M.I. and local Education Officers. When it seemed this sad incident had been concluded, but certainly not forgotten, Mr Sutton was served with a solicitor's letter … 'claiming damages in respect of a loss of expectation of life' … citing a … ' lack of proper and continuous supervision'.
As the claim was made against the Head Teacher the Education Authority offered no direct support, advising instead that the matter be dealt with by the Union; in this instance, the N.U.T.
With the help and support of this professional body it took three months for an agreement to be reached with Henry's parents. A relieved Mr Sutton, who had had this terrible tragedy, and its aftermath, hanging over him for such a long time was informed by letter -
'I …… have the pleasure to inform you that it (the claim) has been settled by the Insurance Company representing the Dairy Company, the Union making a small contribution towards the settlement, without admission of any liability. You will, therefore, not be further troubled with the case'.
This tragic event was exceptional; as was the way it was eventually resolved. Today, however, in a society that seems increasingly keen to look for blame, invoke legal action and claim compensation, a risk assessment policy and the recording of all incidents and accidents, rather than just the most serious ones, has become a vital and necessary part of a school's daily routine.
Section one
Introduction – Goodbye Green Fields and Country Lanes
Getting Started
Buildings – Meeting the Changing Needs
The School Staff – Comings and Goings
A Broader Education – Talks, Festivals and Visits
Concerts and Performances – A Chance to Show Off
Christmas Celebrations
Royal Occasions – Visits and Celebration Holidays
Physical Activities – Athletics, P.T. and Games
Fund Raising – Helping Others and Supporting Ourselves
Medical Matters – The Doctor, The Dentist and the 'Nit' Nurse
Accidents and Misfortunes – Cuts, Bruises and Even Worse
Transgressions – Naughty, Naughty!!
The Air Raid Shelter Saga – Keeping the Children Safe
Evacuation – From Birmingham to the Countryside and Back
Appendix 1 Birmingham Educational Districts & School Lists
Appendix 2 New Pupils' Previous Named Schools
Appendix 3 Sketch Map of the Local Roads Housing Dolphin Lane Pupils
Appendix 4 Memories – Dennis Simons