Buildings on the City's Local List
Birmingham City Council's Planning Committee has established a Local List to identify buildings, structures and features which are of architectural, historic or archaeological interest, but which have not been statutorily listed by the Department of National Heritage. The Birmingham Plan, adopted by the City Council in July 1993, states in section 3.26: 'The demolition of buildings on the 'Local List' of buildings of architectural or historic interest will be resisted to the extent of the powers available. Proposals for the demolition, alteration and/or extension of a building on the 'Local List' should ensure that the features of historic or architectural interest are preserved and that all new work is in keeping with the character of the original building and its setting.'
A grading system has been introduced to signify the relative importance of buildings added to the list and is as follows:-
Grade A
This is of statutory list quality. T o be the subject of notification to the Department of National Heritage and/or the serving of a Building Preservation Notice if imminently threatened.
Grade B
Important in the City-wide architectural or local street scene context, warranting positive efforts to ensure retention.
Grade C
Of significance in the local historical/vernacular context, including industrial archaeological features.
Descriptions have been mostly provided by the Conservation Unit of the City Council: we thank them for their help.  
The Fire Station (Grade B), Alexander Road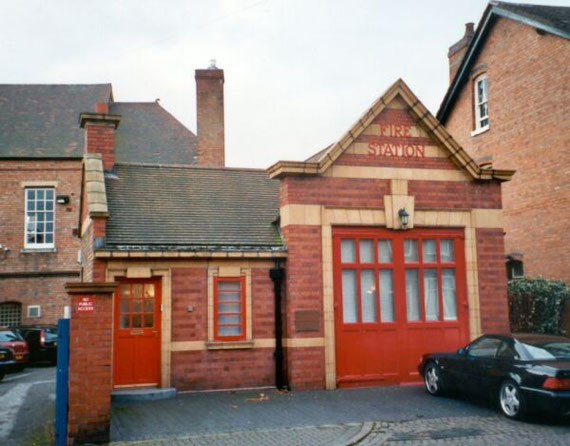 This was built c. 1921, replacing gardens at the back of the police station. It closed in 1993, when a new fire station at Speedwell Road opened. Red brick and buff terracotta; tile roof. Single-storey; two bays, the right hand bay set forward and containing a pair of tall, half-glazed doors set in a flat arched opening with bold keystone, all under a brick and terracotta striped gable bearing the words "Fire Station" in raised terracotta letters. The left hand bay is lower and contains a doorway and single window.
The caretaker's house on Alexander Road (Grade A)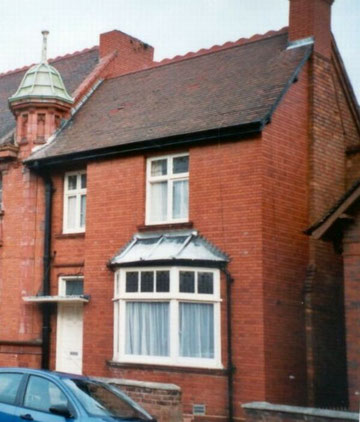 Caretaker's house to right hand side of 1903 church hall (see statutorily listed buildings page). Two-storeys, two window front. Canted bay to right on ground floor with lead roof. Timber casements throughout. (Currently, February 2011, this does not appear on the local list).
Baptist church hall (on corner of Alexander and Yardley Roads) (Grade A)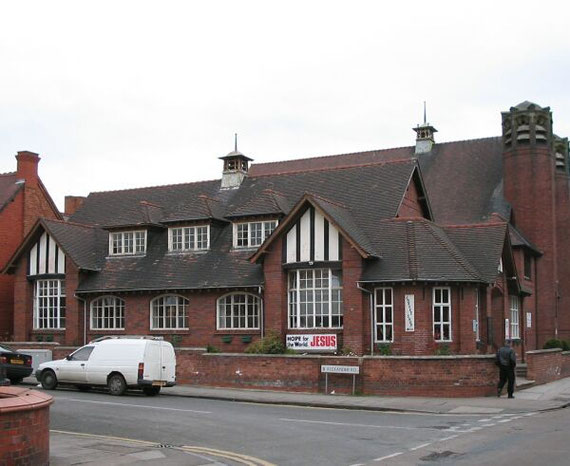 Built 1924. Red/brown brick; tile roof. Single-storey. Occupies corner site. Entrance front of asymmetrical composition with recessed door in arched opening with half-timbered gable above. Side elevation of three bays; five windows in the rhythm 1:3:1. Symmetrical composition with tall gabled bays at each end containing recessed bow windows set between brick piers under a half timber gable. Steep roof topped by Arts and Crafts style femerell with three hipped dormers. Casement windows with glazing bars throughout. It is known as the Glyn Edwards Hall.
Currently (February 2011 to summer 2012) there is a proposal to demolish this building:
http://acocksgreenfocusgroup.org.uk/2012/06/23/save-the-glynn-edwards-hall-yes-again/
 
The controversy has resulted in the unearthing of an interesting situation regarding the Local list, and a copy of part of the original 1991 list, which includes the caretaker's house, can be accessed at the link below:
http://acocksgreenfocusgroup.org.uk/2012/08/03/glynn-edwards-hall-saga-the-mystery-of-the-missing-listing/
50 Yardley Road, corner of Elmdon Road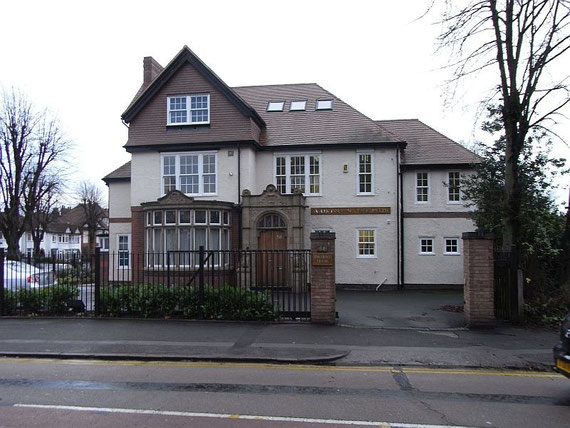 Built for John Nicol by Essex, Nicol and Goodman, c. 1903. A detached residential property on corner plot, brick ground floor, render upper. Tile hanging to gables. Original ornate fenestration comprising leaded coloured glass. 2 ornate bays with buff terracotta dressings, square stone portico. Coach house converted to ground floor room. Stylistic mix of Arts and Crafts and Edwardian influences. To rear an addition c. 1980 of similar scale, massing and materials. Further alterations have been made. 
The Library on Shirley Road (Grade A)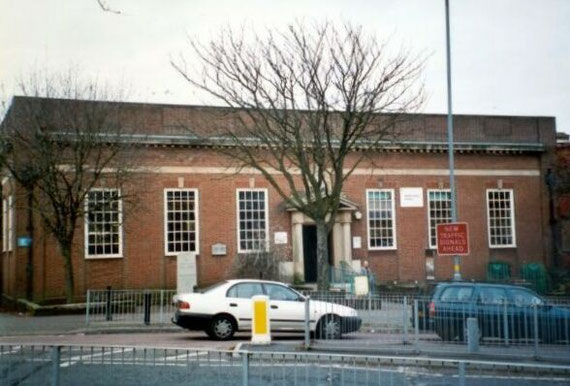 1932. Architects Messrs. J.P. Osborne and Sons, builder Mr. J. Emlyn Williams of Aston, masonry work by Wragg Bros of Kings Heath, terrazzo by Lyne and Sons of Birmingham, and hand-made facing bricks by J.W.D. Pratt of Oldbury. Externally the building is in modernised Georgian style, in sandstone bricks and Grinshill stone. The City's Coat of Arms is over the main door. Internal joinery is of oak, including substantial areas of glazed oak framing, and the floors and dados in the entrance hall are terrazzo. Refurbished 1994-5.
1073 Warwick Road (the Churchill Citizens Club)
The Inn on the Green (Grade B)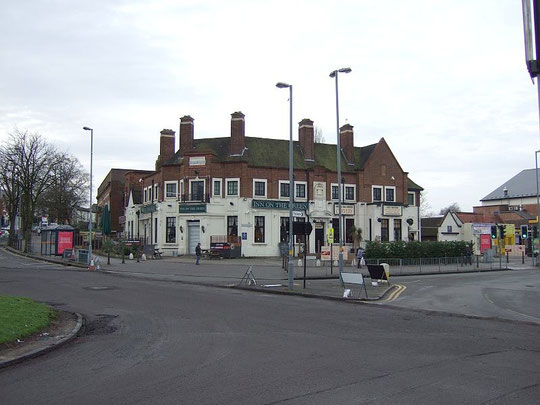 1930. James and Lister Lea for Mitchells and Butlers. Large 1930s public house. Brown brick with rendered details surrounding windows.  Broken pediment above main entranceway. Predominantly Classical, although a mixture of freestyle details, including allusions to Art Deco. Important townscape value.
Acocks Green Primary School (Grade B)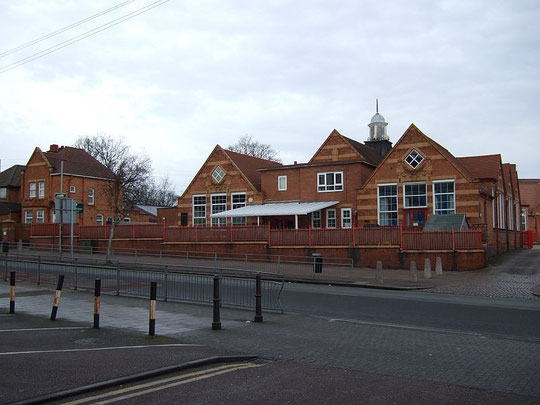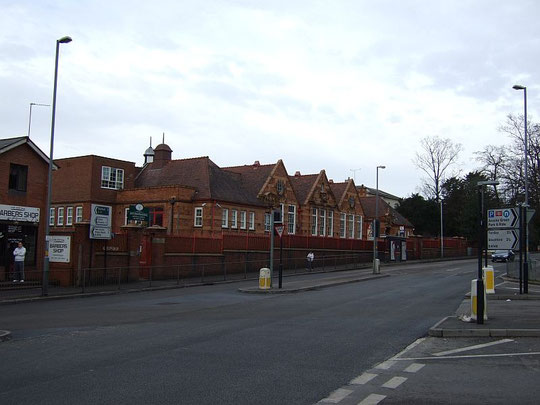 1908. A.B. Rowe. Two school buildings of 1908. Single storey red brick with terracotta banding and elaborate detailing adorning gables and entranceways. Original railings facing onto Warwick Road. Mixture of original and non-original windows.
Eastbourne House, 111 Yardley Road (Grade B)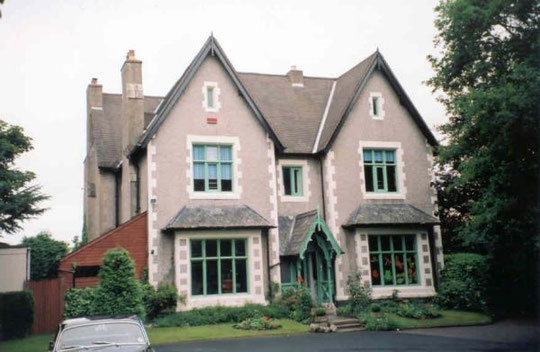 48 Sherbourne Road (Grade B)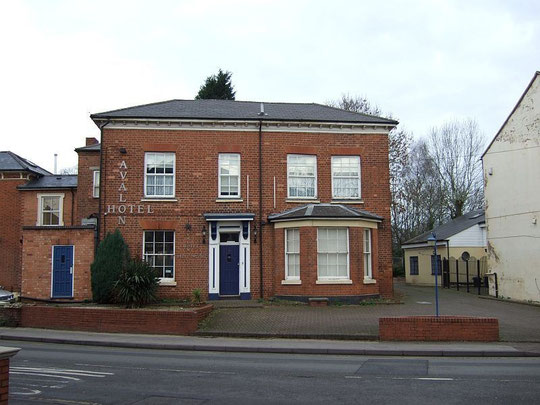 35-45 Malvern Road (odd nos.) Grade B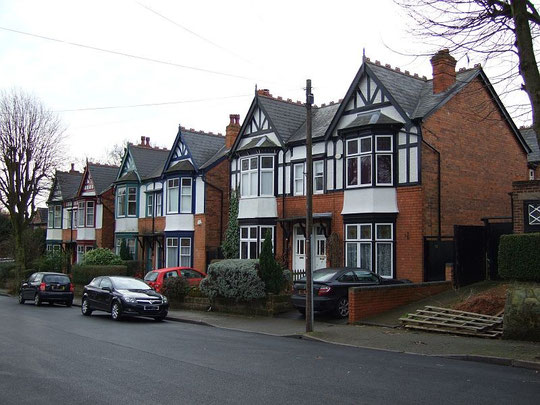 Circa 1906. Good example of 6 pattern-book Arts and Crafts inspired semi-detached villas. Two storey, ground floor red brick, render and timber first floor. Slate roofs with decorative ridge tiles and chimneys. Double bay frontages under timber and rendered gables. Good original timber joinery most with original stained glass. Original timber doors under canopy porches. Many with original boundary treatment.
Built environment of Acocks Green
Introduction to the built environment of Acocks Green