The history of Stone Hall, Acocks Green
Stone Hall is one of the most respected and beloved institutions in Acocks Green. Over the last three decades it has given so much pleasure to so many people, enriching their lives with education, leisure, trips, meetings, meals, indeed everything that a real community centre can do.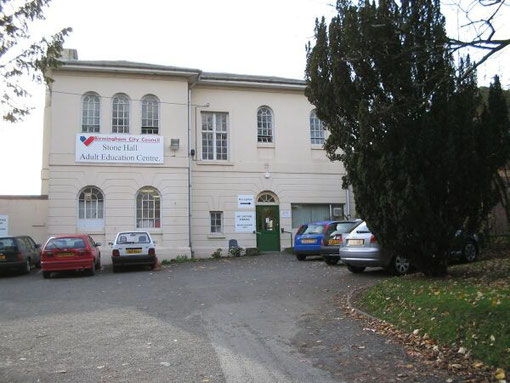 The early days 1858 to 1884
The Tithe Map for the 1840s shows the area between Broad Lane, the Warwick Road and Well Lane (Westley Road) occupied by fields. Numbers 1197 to 1199 were owned and farmed by Benjamin Cook. In 1853 he began to develop part of the land, and built three dwellings on Broad Road. Five years later, nine houses were built along the Warwick Road, including Stone Hall, and five more on Broad Road. It is possible that the surgeon's house on the corner of Broad Road was also built at this time. That left a large corner area at the Green, part of which was soon taken up with the original New Inn, which was opened in 1859. Next to the inn, five cottages leading back from the road were built in the same year. Benjamin Cook's estate came up for sale in May 1875 after his death. Stone Hall was Lot 16.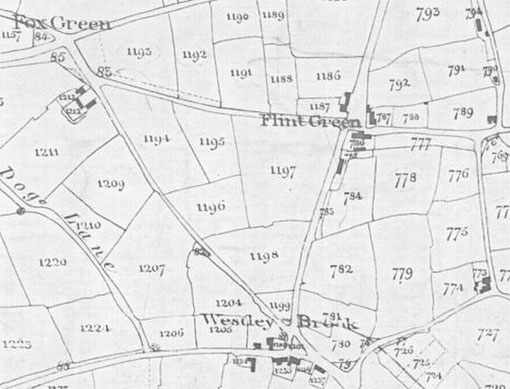 Extract from Cook Estate sale catalogue, 6th May 1875
The ground rent for Stone Hall dates from 25th March 1858. It was built at the eastern end of field 1197, called Fox Green Lane Close in the Tithe Apportionment. In the 1860 and 1864 directories the house was occupied by Samuel Robotham, and in 1868 by Joseph Bourne, a gun and pistol maker. In the 1872 and 1883 directories the house was listed under William Bourne. In 1884 the house and grounds came up for sale.
Stone Hall was sold by auction on Thursday 27th March 1884 by Grimley and Son. The estate was 5 acres, 1 rood and 17 perches. There were aleady two ground rents within the Stone Hall estate, one for a house on the Warwick Road, and one for a piece of land in Well Lane ( Florence Road c. 1876 and Westley Road since c. 1879). The greater part of the rest of the estate was said to be available for building on:
"The whole of the land in Well Lane and a considerable portion of the frontage in the main road may be advantageously leased for the erection of Villa Residences without destroying the character of the Residence or interfering with the privacy of the Pleasure Grounds."
This is how the property was described in the sale documents. It was clearly a rich man's home.
A HIGHLY DESIRABLE AND IMPORTANT FREEHOLD RESIDENTIAL ESTATE
Known as "STONE HALL," situate at Acocks's Green, in the parish of Yardley, on the Warwick Road, about four miles from Birmingham, comprising a most substantially-built FAMILY RESIDENCE, erected by a former Proprietor, for his own occupation, regardless of cost; delightfully placed in beautifully-timbered Grounds, abounding in choice Shrubs and trees of mature growth.
THE RESIDENCE
Is an elegant erection, of modern construction, exceptionally well-built, and is replete with every comfort and accommodation for a Gentleman's family. The exterior is of white brick, faced with dressed ornamental stonework, having a handsome stone Portico at the principal entrance.
The house contains, on the ground floor, a spacious Entrance Hall, with Vestibule 38ft. by 11ft. 3in., paved with Minton tiles and well lighted by two stained-glass windows. The suite of Reception Rooms comprise a lofty Dining Room, 24ft. by 17ft. 6in., with French Casements leading to lawn, having recess for sideboard, bordered by marble columns, with carved stone capitals; and a convenient Store Closet. Drawing Room, 26ft. 3in. by 17ft. 3in having three windows overlooking the front lawn. Morning Room, 19ft. 6in by 16ft. 3in; and Library, 17ft. 3in, by 13ft. 9in. The whole of these Rooms are 12ft. 6in. high, and fitted with massive polished mahogany doors and expensive marble chimney-pieces. There are also a Lavatory and W.C., leading from the Hall.
THE CHAMBER FLOORS
(Approached by a handsome staircase) contain four principal Bed Rooms, each 24ft. 3in. by 17ft. 6in., 20ft. 6in. by 16ft. 3in, 17ft. by 16ft., and 16ft. 3in. by 15ft. 3in., with two commodious Dressing Rooms, W.C., Wardrobe, and Store Closets; also, a Nursery, 18ft. 6in. by 14ft., with Closet; two large Bed Rooms, Bath Room (bath having hot and cold water supply), Housemaid's Closet; and other conveniences.
The house is so arranged that additional bedroom accommodation may readily be provided.
THE DOMESTIC OFFICES
Which are screened from the Entrance Hall by solid rosewood doors, comprise Stillroom, fitted with dresser, cupboards, and water supply; Kitchen, having a "Birmingham Range" therein; Scullery, with sink supplied with hot and cold water; Larder, with slate shelves; and Store Closet, fitted with shelves and cupboards.
IN THE BASEMENT
Are extensive dry Cellars or Rooms, comprising an Ale Cellar, a Fruit Room, two Wine Cellars, a large Cellar, fitted with shelving; and a Cask Room.
THE OUTBUILDINGS
Which are placed in a paved enclosed Court Yard, consist of a Carriage-house, two-stalled Stabling, (Loose Boxes in field) Knife-house, Closets, and Manure Pits, with a large Soft Water Cistern, and a Force Pump.
IN THE GARDEN, THE GLASSHOUSES
Which have been erected by the Proprietor on the most approved system, comprise handsome Conservatory, by Cranston, 35ft. by 16ft.; Stove-house, Plant-house, Propagating-house, and a range of Forcing Pits, the whole of which are heated by hot-water pipes, all worked from one boiler.
THE PLEASURE GROUNDS
Are tastefully laid-out with lawns, shaded gravel walks, and an ornamental Fishpond, and there is a large and well-stocked walled Kitchen Garden; also two Paddocks of Grazing Land.
THE ESTATE
Is belted by numerous handsome trees, which completely screen the grounds from the roads and surrounding buildings. It contains an area of 5 acres, 1 rood, 17 perches, or thereabouts, with a frontage of 117 yards to the main road, and a frontage of 192 yards to Well Lane, and forms one of the finest Residential Properties in the neighbourhood.