The Walker era
The story of the Walker family really starts in the Lake District, where Rev. Robert Walker was parish priest in the 18th century. He was such a powerful and well loved figure that he was dubbed 'The Wonderful'. Wordworth even wrote about him in his poem 'Excursion'. He died at the age of 93. 'Yet with all the simplicity of this good man's habits, such were the attributes of his Divine nature that the lord of Muncaster would doff his hat to the country pastor, which, according to tradition, he need not have removed in the presence of his Monarch on the throne.'
The above quote and much of the information in this section comes from the Yardley Newsletter and house magazine, 1895. Rev. Robert Walker's eldest son was called Zaccheus, and three further generations bore the same name, so he was Zaccheus I. He came to Birmingham, was employed by the famous industrialist Matthew Boulton, and married his sister. One son, Zaccheus II was born before she died. As Boulton's business expanded, a merchant department was set up with Zaccheus I as managing partner. He died on August 4th 1808, only six years after his father, at the age of 72.
Another famous name comes to the fore in the life of Zaccheus II. He worked in his father's business, and in the U.S.A. got to know Robespierre. During the French revolution he was in Paris, and was condemned to death as an aristocrat. Robespierre saw his name on the list of those to be guillotined, and made sure he escaped. Zaccheus II had five children, and died on April 7th 1822 at the age of 54. One of his children was Zaccheus III.
After Matthew Boulton's sister had died, Zaccheus I had taken another wife, and one of the children of that marriage was Joseph. It was this man who took care of his half-brother's children. Joseph was a successful merchant in Birmingham and brought Zaccheus III into his business at the age of 13. He did so well that at Joseph's death in 1846 the Walker part of the business passed to him. After the death of the other partner, a Mr Armitage, Zaccheus III renamed the company Walker Brothers. This may have been anticipation of handing the business on to his two sons, one of whom was Zaccheus IV, but he saw that the prosperity of his enterprise was on the wane, and abandoned such plans. He retired to the country, having bought the estate in Yardley known as Fox Hollies. He had also bought Hyron Hall Farm nearby, where he was listed in 1868. In that year he began to sell building plots on the Hyron Hall Estate. The area "commands extensive and uninterrupted views of picturesque landscape...valley intersected with ornamental waters in the foreground, undulating hills and distant woods to the horizon".
Around 1869 Zaccheus III commissioned a rebuild of the house at Fox Hollies in an Italianate style, making it a much grander building. The architect was Yeoville Thomason, who designed Birmingham's Council House (a drawing of the rear of the new Hall is in the City's Archives MS 1460/26, dated 1869). The rebuild included an art gallery for his large collection of paintings. He moved into the new Hall in 1873, after which he put Hyron Hall Farm up for letting.
On 19 November 1874 he suffered a broken leg in a carriage accident on the Stratford Road when the horse was frightened by a train and bolted. His daughter Frances was also badly hurt. This was reported the day after in the Birmingham Daily Post.
Zaccheus III was also involved in banking. He was instrumental in the rapid expansion of the Stourbridge and Kedderminster Bank, which later amalgamated with the Birmingham Banking Company to form the Metropolitan Bank of England and Wales (later the Midland Bank and now HSBC). He bought a lot of land in the Fox Hollies area, and after retiring from involvement with the bank concerned himself exclusively with rural pursuits: crops, and livestock farming. He died on April 5th 1892 at the age of 80 years.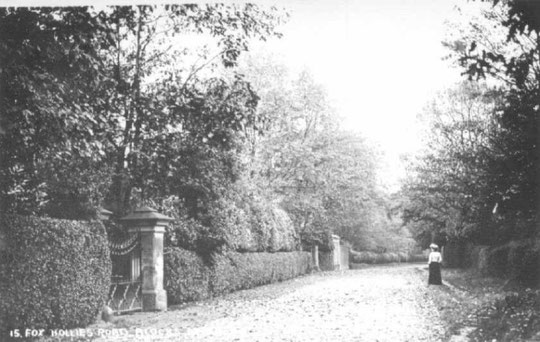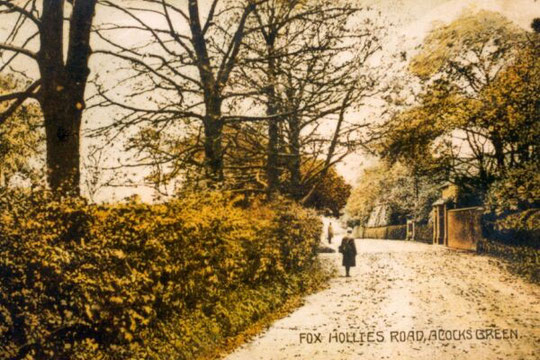 Zaccheus IV was born at Soho Hill in Handsworth around 1848. He wanted to be a soldier, but his father disapproved, so he went to Glasgow University. After that he went into engineering, and was advancing in that career when around 1880 his father's health began to decline and he was called back to manage the estate and farming businesses at Fox Hollies. This suited him very well, as he had a great interest in breeding horses and dogs. His stud farm was at what is now Fox Hollies Park, at Sandpits Farm. The kennels were adjacent to the Hall, and there he bred mastiffs with the assistance of his kennelmaster, Joseph Smith. Joseph Smith and his family lived in a cottage on the site of the Fox Hollies pub, now Lidl. When the cottage was demolished for the pub, the Smith family went to live at the Hall's lodge. Hyron Hall Farm and Pool Farm were the agricultural units of the estate.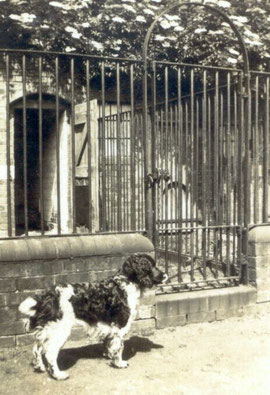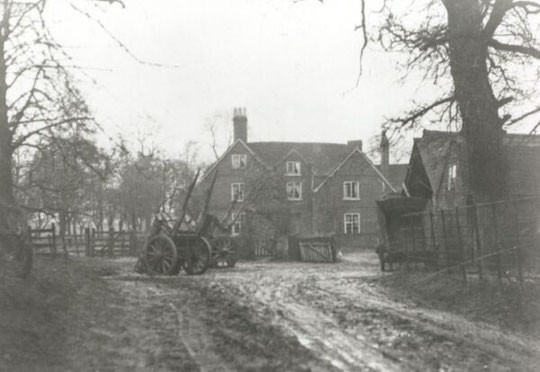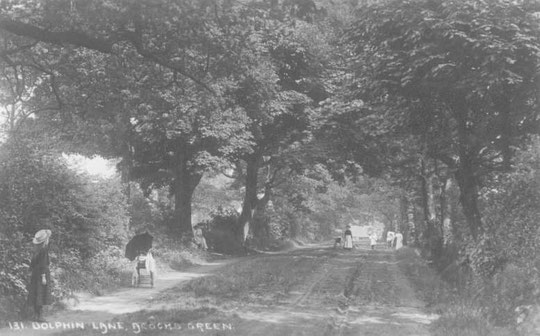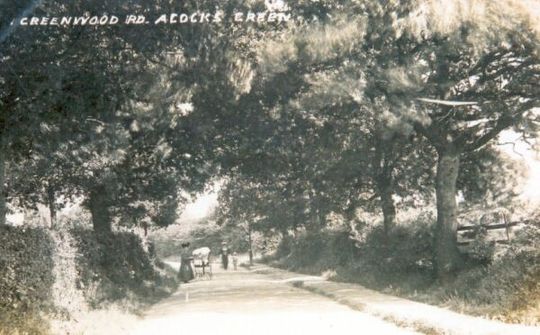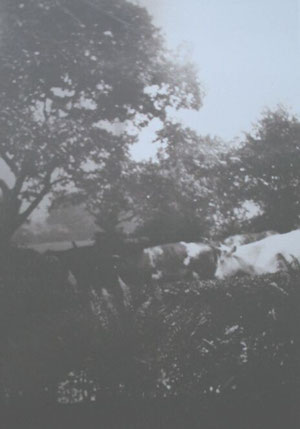 Zaccheus Walker decided to pursue military activity anyway, and spent many years in the Volunteer Reserve, eventually obtaining the rank of Lt.-Colonel. He was involved in many local sporting clubs and was chairman of Yardley Sanitary Authority, and of Yardley Public Works Committee. He was also Vice-Chairman of Yardley District Council. On Saturday September 12th 1896 he hosted a day out in the country for 700 poor children from All Saints' Ward, who were brought to Acocks Green by train and marched along the lanes to Fox Hollies Hall. This was organised by the Fresh Air Fund, which wanted to give poor children the opportunity of trips away from home. Food was provided, sports and games were played, and the day was a great success. Another occasion was at the end of August 1900, when 975 children came, divided into five groups, with about eighty adults helping to organise the day. The Marston Green Homes Band played, a large marquee provided shelter from the frequent showers, sporting activities took place, and lunch, dinner and tea were provided. His dogs and horses won prizes at shows.
An article in 1950 about Sparkhill Cricket Club revealed that they lost their grounds at Knights Farm in Tyseley because of the new railway (i.e. about 1905), and they were then allowed to use six acres in front of Fox Hollies Hall until the estate was sold.
In many ways local people saw Colonel Walker as the local squire. He was certainly a big landowner, and was buying land between the Hall and Shaftmoor Lane as late as 1912. However, after World War One, he sold off all his land. On 7th April 1925 he sold the Dolphin pub to Mitchells and Butlers, and the next month he sold 262 acres to the city for £34.001. The sale included the Hall and its grounds, but he and his sister Mary were able to stay there. His home was soon surrounded by houses, shops, and the Fox Hollies pub. Local youths frequently climbed over the fences to steal fruit, and were chased off by the dogs. Zaccheus Walker IV died on 5th December 1930 at the age of 82. Les Smith recalls seeing his coffin on a gun carriage, with a Union Jack draped over it, as he left Hartfield school at lunchtime on the day of the funeral. The death of Colonel Walker left his sister Mary Hannah in the Hall with the servants.
Mary Walker was unlike her brother in temperament. He was described as somewhat gruff and authoritarian in manner, but with a sense of humour. All accounts of Miss Walker we have seen refer to her as a lovely lady, dressed with plenty of lace. She could be seen riding in a carriage with parasol around the area. She was very involved with the work of St Mary's church and its school in Broad Road, and with the Guides and Brownies. As she became more frail, she would be taken round the grounds in a cart pulled by dogs, with a nurse walking alongside. The contents of the Hall, including the large collection of paintings, were auctioned in October 1933, and Mary Walker left for Sussex, where she died in December 1938 at the age of 92. The Hall was demolished by 1937.
The Lord Mayor and the Parks Committee visited the site of Fox Hollies Hall at the end of October 1938, as reported in the Birmingham Gazette.
"After visiting the beautifully laid out grounds of Sparkhill Park, the party went through rusty iron gates into Fox Hollies Hall, once a noble residence with a fine big house, smooth lawns, flower beds, and a carefully-tended fruit and vegetable garden, but now a wilderness of weeds and building rubble.
Past Glories
The late Col. Zachariah (sic) Walker lived there , and during his time the house and gardens were magnificent, but now there is an ugly pit where the house once stood, and only a few square feet of of brightly-coloured tiles mark the site of the entrance hall.
The lawns are feet high in rank grass, and the flower beds and vegetable gardens are choked with weeds.
In a few months' time those rusty gates will be replaced by new gates, which will be ever open to the every-day people who have come to live on the new housing estate round about.
Where the house once stood will be a children's playground with all manner of gymnastic apparatus; where the lawns used to be there will be tennis courts and a football and cricket pitch. The fruit trees will be uprooted, the weeds cleared away, and children will play where once grew plums, peaches and apples".
These plans were cancelled early in the War, when in October 1939 the Grow More Food Campaign was announced. Unused land was to be turned to use, and parks and open spaces were also included. The site of Fox Hollies Hall was reported in the Birmingham Post on October 20  1939 to have been chosen. Apparently it was Michael Foot, then a journalist, who coined the catchier phrase Dig for Victory, which superseded the first name.
Edith Mahoney (interviewed in 1977)
Miss Walker was a lovely lady...She used to ride in an open carriage and with her parasol up. It was lovely to see her. She was a very charming person. A real personality, she was...She was a gentle lady, and she wore a lot of lace.
Margaret Rose
Miss Walker was beloved by all. She had wisdom and saintliness. She was always available to everyone whether in trouble or in joy. She saw goodness in everyone. She opened Fox Hollies Hall for all sorts of charitable occasions: in particular for a Summer Fete held in aid of the slum children of Birmingham.
Mary Seaton (interviewed in1977)
My mother was cook at Fox Hollies Hall....My father was a policeman at Acocks Green, so this was the classic cook and the policeman situation. That's where they met...You were practically out in the country then, if you went up Fox Hollies Road that far, and this, of course, was the end of the policeman's beat, more or less, and so, of course, they used to go round the back of the house, and I suppose they flirted with the housemaids, and the parlour maid, and the kitchen maid. I know my mother said they always had plenty to eat...You know, you sometimes hear that servants in those days were treated rather meanly. They weren't at all. They seemed to have a whale of a time. Most of the maids who worked there came from the same country area that my mother came from...a village called Sutton-under-Brailles, south of Shipston-on-Stour...I suppose the jobs were passed on [to] a girl who was about to leave school in the village, and you know, the mother would be happy if she knew that her daughter was going somewhere to work with someone she knew. I think that was what happened in those days.
Many people think that Greenwood Avenue may have been a grand avenue leading up to the Hall. This is not the case. Greenwood Avenue was a new road built right opposite the Hall. At first it was cut only as far as the line of the planned dual carriageway. Hartfield Crescent was linked up to Fox Hollies Road while it was still two-way, however. Fox Hollies Road was not widened until 1931, the year after Colonel Walker's death, so he at least was able to retain some seclusion and privacy during his lifetime.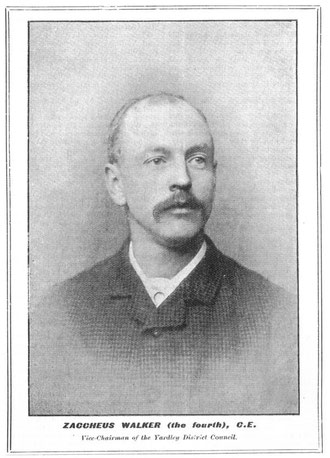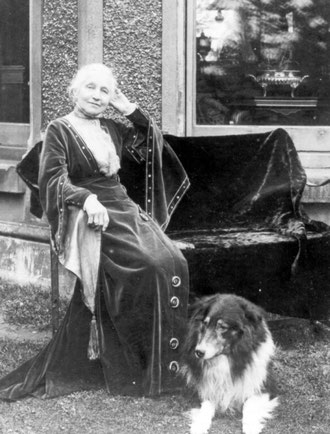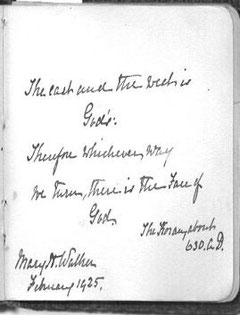 Census records
Below are Census records. One lodge referred to was south of the Hall on Fox Hollies Road, and the other was where Lidl is now (the Fox Hollies pub site).
1871 Census record (Hyron Hall)
Zaccheus Walker (Head), 59, retired iron merchant (landowner), born Soho, Staffs
Phoebe Walker (Wife), 59, born Leeds, Yorkshire
Mary H. Walker (Daur), 24, born Handsworth, Staffs
Frances S. Walker (Daur), 19, born Handsworth, Staffs
Joseph R. Walker (Son), 20, undergraduate Trinity College Cambridge, born Handsworth, Staffs
Elizabeth Gates (Servant), 39, domestic servant cook, born Birmingham
Mary Jackson (Servant), 26, domestic servant housemaid, born Croxton, Leicestershire
1881 Census record (Fox Hollies Hall and servants' dwellings)
Frederick H. Wall (Head), 31, coachman, born Stoke, Warwickshire?
Ada Wall (Wife), 28, born Aston, Warwickshire
Gertrude Wilson (niece), 10, scholar, born Aston, Warwickshire
Zaccheus Walker Jnr (Eldest Son), 32, retired marine engineer, born Handsworth, Staffs
Hannah Hirst (Sister-in-law), 65, income derived from land, born Leeds
Mary Price widow (Servant), 46?, ? dom, born ?
Eliza Allen (Servant), 32, servant, born Stourbridge, Staffs
Mary Allen (Servant), 31, servant, born Stourbridge, Staffs
John Freeman (Head), 33?, gardener, born Ombersley, Worcs
Eliza Freeman (Wife), 39?, born London
Benah George Freeman (Son), 6, scholar, born Worcester, Worcs
1891 Census record
Hall
Zaccheus Walker widower (Head), 79, gentleman, born Handsworth, Staffs
Mary H. Walker (Daur), 44, born Handsworth, Staffs
Zaccheus Walker (Son), 42, gentleman farmer, born Handsworth, Staffs
Joseph R. Walker (Son), 40, barrister, born Handsworth, Staffs
Phoebe Hannah Hirst (Niece), 27, born Leeds, Yorkshire
Robert Boulton Corser (Grandson), 6, born Olton, Warwickshire
Mary Price widow (Servant), 58, cook, born Handsworth, Staffordshire
Eliza Allen (Servant), 42, housemaid, born Stourbridge, Staffs
Ada Jones (Servant), 20, maidservant, born ?, Warwickshire
Lilly A. Jones, (Servant), 17, maidservant, born ?, Warwickshire
Annie Palin (Servant), 17, born Shrewsbury, Shropshire
Lodges
Arthur Clark (Head), 35, groom coachman, born Bracknell, Berks
Amelia Clark (Wife), 35, born Wolverhampton, Staffs
Ethel Clark (Daur), 9, born Worcester, Worcs
Arthur Henry Clark (Son), 3, born Chelsea, London
Emma Clark (Daur), 2, born Hall Green, Worcs
Alfred Clark (Son), 8 mths, born Hall Green, Worcs
John Freeman (Head), 38, gardener domestic servant, born Ombersley, Worcs
Eliza Freeman (Wife), 45, born London, Middlesex
Benah G. Freeman (Son), 16, groom, born Worcester, Worcs
Richard Brighton (Boarder), 21, gardener, born Ombersley, Worcs
1901 Census record
Lodge
John Freeman (Head), 48, gardener, born Ombersley, Worcs
Eliza Freeman (Wife), 56, born Surrey
John Tarver (Lodger), 19, under-gardener, born Solihull, Warks
Hall
Zaccheus Walker (Head), 52, Captain, 1st Warwicks Artillery, Magistrate, living on own means, born Handsworth, Staffs
Jane Painter (Servant), 61, housekeeper domestic, born Kidderminster, Worcs
Beatrice George (Servant), 33, housemaid domestic, born Wolverhampton, Staffs
Lodge
John Wood (Head), 41, coachman groom, born Burghill, Herefords
Lucy Wood (Wife), 31, born Hereford
John H. Wood (Son), 9, born Pontypool, Monmouths
Albert H. Wood (Son), 7, born Monmouth
Florry May Wood (Daur), 2, born Brecon
Sale catalogues, Fox Hollies Hall
Acocks Green Carnival
Fox Hollies Forum
Childhood memories of Jean Mercer