Memories of Eileen Staley, née Bradley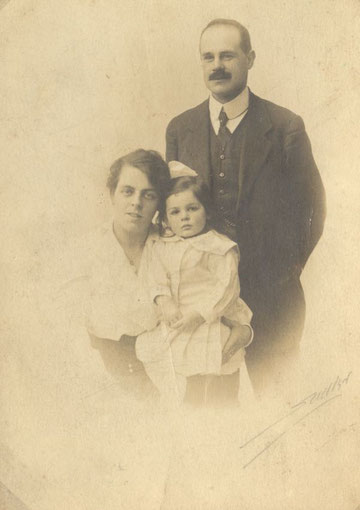 Eileen  Mildred with her parents Horace George and Mildred Ellen (nee Barton)
I was born on 12 March 1916. Mother was 26 years old in this first picture and 13 years younger than father. I was 2 years old. Dad became quite famous as an architect in the Midlands. We lived at 22 Hazelwood Road, Acocks Green. The kitchen had a brick tiled floor and mum made rag rugs to make it warmer. We had an old kitchen range. The yard was laid with grey bricks and a border of pink bluebells. There was a large elderberry tree that you could climb and sit in and we made scented water. The garden was long and narrow and ended with a gate facing the tennis courts and club house.
Next door on our left at no. 24 lived my uncle Percy and aunt Jessie. They had 2 daughters, Dorothy and Marjory. Uncle Percy died of cancer. When he died the stretch of road outside had been specially covered to lessen the traffic noise, something surely unheard of these days. Later cousin Dorothy married and lived at no. 20. Sadly her husband had a racing accident and died during their first year of marriage. They had a son, Tony. Uncle Percy's son was Gorton, born 1907. I used to climb on the gate and watch him come home from school on his bike. I was about 4 years old then. All 4 houses were alike, with the same flint walls outside. Further down the road were what were called council houses, now called Lilycots. There was a more marked class difference at this time. The children were certainly rough and disliked us. They made my life miserable for years. I walked miles out of my way to avoid them, usually getting home late. They would hem me against a wall and terrify me. This unhappy state of affairs was my fault. They had allowed me to hold a piece of glass or a marble that they valued. I deliberately threw it into an adjoining field. They vowed vengeance and made me pay dearly for years.
I went to a little private school called 'Cofton'. It was a half hour's leisurely walk and was run by a Mrs Allen and daughter Kathleen. I walked up to the top of the road, and turned left towards the village centre. Ten minutes up the main road past the church, St Mary's, where all the family were buried. Left again and I was nearly there. Our school colours were orange and brown. I remember lacing cards to make pictures. I got to be friends with Nancy Woolley, who liked to walk with me, and she let me try her bike. We could walk home after dark safely in those earlier times. There were trams with open tops and electric light bulbs all over them all lit up. A hurdy-gurdy played in the village centre. Chestnuts roasting and sometimes a monkey man. Around this time there was the first bad recession, 1926, and very hard times. There was little work and no dole money then, and very cold winters. People couldn't afford coal. Great hardship.
Beyond the 4 houses 20 to 26 was a long wooden fence, and behind this and our houses were 2 bowling greens and 6 tennis courts. I was thrilled at about 16 years old to become a member of this club and they were the happiest days of my life, but they only lasted a brief 3 years, after which we moved to Brighton.
The long hedge opposite enclosed a nursery, where mother sent me occasionally to buy a bunch of chrysanths for a shilling. I can still remember the smell of the greenhouse. It started my love for a flower garden. The owner was Mr. Herbert. He had 2 sons and later on they joined my tennis club. Exactly opposite our gate and over the road lived my best friend Connie Hodgetts. They had a large garden at the front and a beautiful old conservatory that you stepped into from the lounge and could walk around with a centre island reaching to the roof, full of grapes on a large grapevine, thinned methodically by an old gardener and looking perfect. Most people afforded a gardener and a maid, and my mother had a nurse as well, when my sister Jocelyn arrived. Later the road was widened on this side and the garden and conservatory became smaller. Next to her lived a Miss Turley.
In the early 1920s Dad was getting well known as an architect, and we moved into no. 63.  Hazelwood Road was only partly built on and no. 63 had no lamps for a while. When they came, they were gas lamps, and the lamplighter would cycle his rounds at dusk and light the lamps. There were ditches along the roadsides, and until it was widened only a few paved areas were made up. We had electricity installed and a telephone. The village electrician was called Mr Baldwin. There was a huge garden. Dad and Mum always loved a garden. I had my own garden with 4 fruit trees and an old stone sink. I was very keen and tried to grow everything.  Across the road was a large, long holly hedge. A family named Arculus lived there. I was growing up. I had 2 sisters and I had to look after them. We were known as the 3 graces. At Christmas times we always had a box at a pantomime. We three wore blue velvet dresses and lace collars all alike.
Grandmother and I got on well together. First thing in the morning she would look at the direction the weather vane was pointed on the roof and predicted what the day would be like. The front lawn took a set of croquet hoops perfectly, we were always playing together. The prize was fruit jellies which she always had in a little drawn up silk purse she carried. Sometimes we had some each for being especially good. She wore black stockings, little black buttoned boots, long black silk gowns. She would sit with her feet up and listen to Evensong on on Sunday radio with 2 little books she read. She gave me a little gold thimble in a case with the picture 'Brighton Palace' on the top, given to her by a boyfriend when she was young. This was probably a momento of the completion of the Royal Pavilion Brighton, which she visited.
I was able to shop for mum often. I enjoyed it and especially liked to look at a stationery and bookshop window. My teacher Mrs Allen saw me one day. The shop displayed an assortment of leather-bound Bibles and prayer books. Having never had one of my own, or even read one, she went in and bought me one. She invited me to attend church with her. On Palm Sunday we carried little crosses and paraded round church with them. Although we were well cared for at home, we did not learn about the Lord.
It became time for me to leave my old primary school, Cofton. I was going to start attending the 'Convent of Our Lady of Compassion'. New white starched blouses and a navy gymslip, a white panama hat, and I suppose I had to be 9 or 10 years old. Now that I had a new school I walked to a different end of the village. I turned right in the village and walked in the direction of Olton. Past my favourite bookshop, past the old horse trough. Most traffic used horses, and there were always plenty of horses drinking. There were funeral hearses, milk carts with their clattering cans, bread vans. There were very few cars. My sister Jocelyn got knocked down by a bike and had her leg broken. What a time that was. On my way to school I passed Mrs Clark's sweetshop. I was allowed 1d or sometimes 2d. Also at the new school they sold chocolate in the lunch break. My favourite was either a marshmallow or a Turkish delight bar. Only 2d then. At the sweetshop for 4d you could buy a Kunzle cake. There have never been since 1936 any Kunzle cakes made to those original recipes. Indeed I know of no cakes that come like those were.
I must have left school to become Mum's baby minder. There were daily shop visits and pram outings. One day I forgot and came right home without the pram (with my sister in it). I simply walked back, about 15 minutes walk, and she was quite alright. There was not crime like we have today. I used to call and bring home dresses on approval for Mum to try on from 'Florence'. My first pretty grown up dress was salmon silk and I bought it myself. When I was 17 I had my first perm, it cost 12/6 at Lewis's in Birmingham.
Dad was often ill and I was always given the responsibility of going to the bank for him and travelling into Birmingham to pay his office staff. One day I passed by the 'Underwood School of Commerce' on my Saturday morning to pay staff wages. I did a most daring thing. I enrolled for a year's tuition at this school without Dad's permission. I had been getting ill with staying in with with my young sisters and needed company and a change. Although I had upset my parents' plans, I was allowed a train ticket for the year, and I began to learn a fresh way of living. No time to feel ill any more. This was exciting. I also became a member of the Hazelwood Lawn Tennis Club. I suppose being the eldest I had to break the ground for the others, it was hard work growing up. I wasn't academic, I had no school qualifications and I wasn't able to earn anything. I wasn't allowed a boyfriend.
However everything changed in my world. Dad decided to retire to Brighton, Sussex.  After several years getting settled in at 63 Hazelwood Road and myself at 17 years old enjoying life, we sold our home and on Jubilee Day 1935/6 left for Sussex.
In 1944 with my 2 sons Mike and Malc we paid a quick visit through the village. The church had been bombed, and the graveyard, plenty of rubble everywhere. Our old house no. 63 had a crack right across the front wall. The property next door was demolished. Dad had designed that.
Dad's father was a famous organist, Frank Bradley Senior. He played at the Melbourne Centennial Exhibition in 1888/90 as a solo organist. He was greatly acclaimed travelling round the big cities. He is buried in the family vault at St Mary's, as are grandma Harriet Bradley, Percy and Ernest.
Memories of Eileen Staley née Bradley