The early twentieth century
By the Ordnance Survey Second Edition, published in 1904, several important changes had occurred. Seven pairs of houses had appeared on the south side of the road, namely 4 - 10, 20 - 26, and, further along the road 44 - 54. Numbers 4 - 10 are attractive, with banded tiles. On number 6 the name Ivycots is still discernible, and number 8 has the name Lilycots. Occupants of rented houses were not listed in the directories, but can be picked up from 1920 on voters' lists. It is possible that these houses date from the 1890s rather than the first years of the new century, but we have not been able to establish this. According to Mrs Robbins of Ivycots, Lily and Ivy were the names of the builder's daughters. Ivycots was the home of the local midwife, Nurse Maund in the 1920s. She delivered one thousand babies in Acocks Green. Until regulations came in, they had the mothers at Ivycots, but afterwards Nurse Maund went to stay with new mothers in their own homes.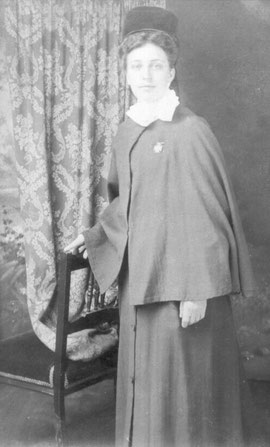 On 26th September 1900 a plot of land to the east of Hazelhurst, which had been sold by John Horton to Samuel Balden, was sold to Albert Aston. William Waterhouse of Hazelhurst had also had an interest in the land by then. The houses numbers 44 - 54 were built by 1902. As mentioned above, Albert Aston sold some land to the new occupant of Hazelhurst in 1900.
In addition, on the north side of the road, a large nursery had opened, covering the land from Hazelwood Road through to Westley Road, east of number 25, Hazelwood House. The owner, Walter B. Child, had been at Shamrock Cottage, later 118 Greenwood Road, (or March/Marsh Lane as it was known before). Walter Child was listed at Hazelwood Nurseries from the 1898 directory, although he had been at a house called Edelweiss for a couple of years and was operating as a nurseryman. Greenwood Road later became part of Olton Boulevard East. The earlier map from 1888 showed the Westley Brook flowing through the area that became the nursery. By 1904 the stream had been culverted and the course was no longer visible, and around this time Mr Child sold some of the nursery site. The new owner of Hazelwood Nurseries was Charles Henry Herbert.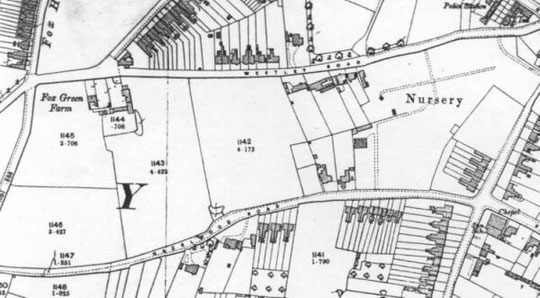 Some of this information about C.H. Herbert comes from research by Len White and the book Carnations and pinks for garden and greenhouse by John and Eileen Galbally. Charles Herbert came from Suffolk and lived with his family at Hazelmere, Fox Hollies Road from 1904, then from 1906 at Glenwood, 48 Shirley Road. He owned Hazelwood Nurseries from around 1904 until his death on 3rd May 1933 at the age of 83. He was a florist and nurseryman, who specialised in border carnations. He developed Herbertii pinks after World War One, and he was one of a handful of important hybridizers of these popular flowers. Indeed his hybrids have been described as 'some of the finest pinks ever seen'. 'Bridesmaid' has been used frequently in breeding and was the most sought after cultivar, but 'Progress' was also used. However, a whiff of scandal, and maybe even jealously, has surrounded Herbert's cultivars. He was accused of using border carnation pollen, which he denied. He may in fact have revived traits bred in a century earlier. C.H. Herbert was described as 'the epitome of all that was gentle and gentlemanly - there never moved among flowers a more gracious and courteous spirit than he'. Charles Herbert was personally congratulated on his pinks by the King and Queen at the R.H.S. Show at Chelsea in 1921. After Charles Herbert, Hazelwood Nurseries was owned by a Mr Veitch. This family eventually went on to run Notcutts, as did Mr Charles Nunn of number 97. During the Second World War the nurseries supplied water to local people when the mains supply to the city was damaged by enemy bombing. The nursery lasted until the mid-1970s.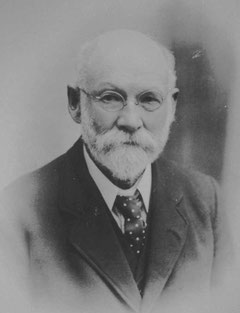 Returning to the 1904 map, Hazelhurst's coach house is there. The occupants of numbers 12 - 18 were not shown in directories any more, so we may assume the houses were rented, but those in 20 - 26 were listed from 1905. Number 20 had the name Rothsay, 22 had the names Muirton or Kingarth, 24 was called Montrose and 26 was called Glenmore. Number 44 was called Abbotsford, 46 Rodborough, 48 Shaldon, 50 Teignton or Leasowe, 52 Fernlea, and 54 Narberth. Just after the map was published number 66 was built, and this house had the name Arden in 1910. So at this point Hazelwood Road was still quite rural in appearance, and probably quite exclusive. Note the spelling of the road on the postcard, produced around this time. This spelling was usual around then. The Hazelwood Lawn Tennis Club, where part of Hazeltree Croft is now, was asking for planning permission for buildings in 1912, so presumably came into being around then.