The nineteenth century
The first known documentary reference to Hazelwood Road is from 1580, when it was called Dogge Lane. That name survived into the late nineteenth century. A sale catalogue of 1875 shows the road as "Dog Lane or Hazelwood Road". The introduction of the name Hazel could be associated with the appearance of two houses on the north side of the road, Fair View (later Hazelwood House) and Hazel Dale (Hazel Dell). These later became numbers 25 and 27, but are no longer there. These two houses were probably built around 1860.
The Tithe Map was published in 1847, and shows Hazelwood Road as Doge Lane, running past a series of fields. The field names have been transcribed on the map below. At the top of the map is what was later known as Clifton House, (replaced by council flats around 1965). Here there were a house, shop, garden and meadow, occupied by a Henry Mathews. The land was owned by Rev. Rann Kennedy, who at the time also owned the house called Fox Hollies. (That house was rebuilt in an Italianate style as Fox Hollies Hall about ten years later by Zaccheus Walker III). Most of the fields either side of Doge Lane were owned by a John Horton. His cottage and farm buildings were on Well Lane (Westley Road today), and became known as Fox Green Farm. The farmhouse still stands, and was a dancing school for a number of years.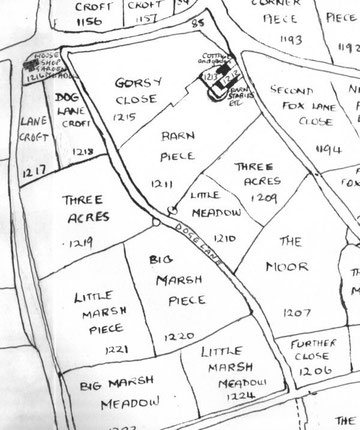 Acocks Green was a rural backwater until the railway station was opened in 1852. The station was given the name Acocks Green and South Yardley, although the nearest settlement was called Westley Brook. Acocks Green itself, the stop for the coaches on the turnpike road, was out near today's Woodcock Lane, and the station may have adopted the name associated with the existing mode of transport. The area we know as the core of Acocks Green was in fact three hamlets strung out on the Warwick Road: Acocks Green, Westley Brook, and Flint Green.
As Acocks Green developed, rich people built houses near the station. Roads such as Sherbourne and Botteville housed retired people who had made their money or businessmen who wanted to escape the dirty and noisy city. The land owned by John Horton in the 1840s came up for sale on 6th May 1875 at the Hen and Chickens Hotel, New Street. In addition the ground rents on land beyond Well Lane (Westley Road) and Shirley Road developed by Benjamin Cook a couple of decades before were included. Stone Hall was one of the rents listed. The sale was on behalf of Cook's Executor, which may possibly have been John Horton. All the fields were described as 'Building Land', although they had obviously been agricultural up until then. John Horton sold Three Acres, Big Marsh Piece and Little Marsh Piece to Thomas Naden on 25th March 1876, and he in turn sold part of Big Marsh Piece to Edward James Adams, a silversmith, three days later. Thomas Naden sold another part to Samuel Balden. Samuel Balden's piece later found its way into the hands of Albert Aston, builder on 26th September 1900. Little Marsh Meadow was sold to Thomas Herrivel Bott, gentleman, of Stechford on 24th June 1875. He used to live on the Warwick Road in Acocks Green. The sale catalogue also shows that a Mr Edmonds was at Clifton House, and that Fox Green Farm was described as a compact residence occupied by a Mr Harrison, and a separate small farmstead worked by George Beech. Mr Beech farmed at Gospel Lane at the Warwick Road end as well. Subsequent ownership of these fields is complex. Big Marsh Meadow was in the hands of Zaccheus Walker IV of Fox Hollies Hall at the end of the nineteenth century. The name Marsh must refer to the swampy ground in the valley of the Westley Brook, which runs behind Shirley Road. Indeed there used to be a pond in the far left corner of what is now Hazeltree Croft.
Despite the speculative promise of this area, within easy reach of the railway station, Hazelwood Road remained largely undeveloped for fifty years. Not all of Hazelwood Road was covered by the 1875 sale. Two fields belonging to Clifton House were not, nor were Hazelwood House, Hazel Dell, and the land east of there (the field named The Moor).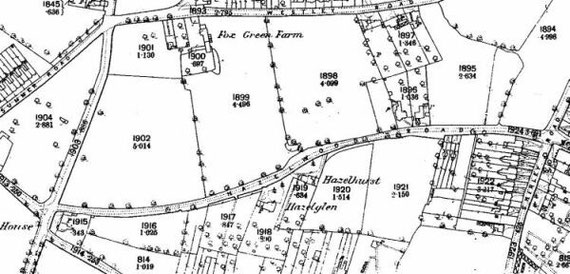 By 1888, the First Edition Ordnance Survey, two large houses had appeared on the southern side of the road. These were Hazelhurst (number 58) and Hazel Glen (number 62). Hazelhurst was probably built shortly after the sale to Edward Adams in 1876. On 30th November 1888 Alfred Laycock bought the house, on 28th June 1893 William Waterhouse bought it, and on 10th May 1901 Theodore Brocker bought it. At this point Mr Brocker bought part of the land adjoining to the east from Albert Aston, and it was at that time presumably that a coach house was built on the narrow strip fronting Hazelwood Road. At the rear Albert Aston sold a large area which he did not require for his own houses numbers 44 - 54 (see below), and this piece became the orchard. On 12th November 1919 Annie Nash bought Hazelhurst. By 30th March 1924 the Nash family were living in the coach house, which had become number 56, and they sold Hazelhurst to William Russell Montgomery. He sold it to William James McClintock, a civil servant, on 29th July 1925. From around 1905 the house was renamed Holly Bank, quite appropriately. Part of this Holly Bank still survives at the front. Hazel Glen may have been built by 1880, as an unnamed house was listed from then until 1891 occupied by a William Henry Wood: in 1892 he disappeared from the directories and Frederick Hawkins, Hazelglen appeared, followed by Henry John Hart by 1896. Thomas North Odell was there a few years later, and by 1910 Frank Arculus was in residence. The Arculus family were still there at the outbreak of World War Two. Number 56 was later renamed The Lilacs.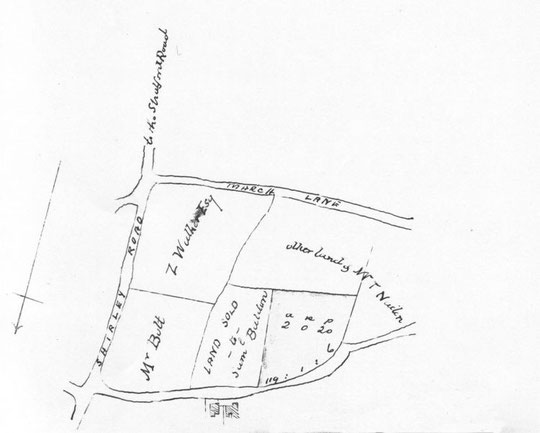 Four smaller houses are shown on the 1888 map at the eastern end of the road, on the part of Little Marsh Meadow not facing Shirley Road: these are numbers 12 - 18. The lease for these houses dates from 12th July 1877. They were built by Thomas Price and William Hossack, and in 1883 were called The Grove, The Retreat, Kimberley and Littleton. Occupiers were Henry Harris, Charles Rudd, James Waldron, and Thomas Edgington.
Hazelwood House, number 25, was sold at auction on 23rd March 1899. This is how it was described in the sale catalogue.
By direction of Howard Archer, Esq., the owner, who is removing to London:
LOT A The pleasantly-situated detached RESIDENCE, standing in its own grounds, known as "HAZELWOOD HOUSE", Hazelwood Road, Acock's Green, with Lawn, Dwarf Wall, and Carriage Sweep in front, within 10 minutes' walk of the Railway Station, and about four and a half miles from Birmingham, now in the occupation of the owner, and containing the following accommodation : "Vestibule, Entrance Hall, Dining Room, 20 ft. by 13 ft. 6 in., exclusive of Bay Windows, one opening on to Garden, and the other into a Span-roof Conservatory, size 20 ft. by 12 ft., fitted and heated with Hot Water Pipes; Drawing Room, with Bay Window; Kitchen, with Range; Pantry, Scullery (with Hot, Cold, and Soft Water Supply), and Cellar. On the First Floor: Four Bedrooms, Dressing Room, and fitted Bath Room; and on Second Floor, Servants' Bedroom, and Box Room. In Enclosed Yard, Earth Closet, Coal-house, and Fowl Pen, and there is a brick-built Bicycle House. In the rear of the house are full-size Tennis Lawn, and well-planted Garden, with Summer Arbour. Immediate possession can be given.

The Property is Leasehold for a term having sixty-one years unexpired at Michaelmas, 1898 (less three days), subject to a Ground Rent of £7 0s. 11d. per annum. Frontage, about 20 yards. Total Area, 1,691 square yards, or thereabouts.
Memories of Eileen Staley née Bradley